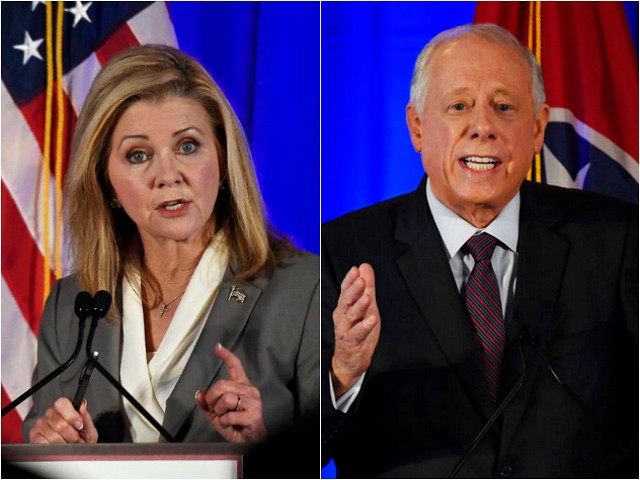 Rep. Marsha Blackburn (R-TN) and former Gov. Phil Bredesen (D-TN) will debate for the second time in their race to fill a forthcoming Senate seat vacancy following Sen. Bob Corker's (R-TN) planned retirement.
The debate is scheduled for 8:00 PM Eastern on Wednesday in Knoxville, TN. Video of the event is courtesy of WATE 6 On Your Side and can be watched above.
President Donald Trump campaigned for Blackburn last week in Johnson City, TN, drawing approximately 20,000 people according to Brad Parscale, his new presidential campaign manager,
Blackburn has positioned herself as an ally of Trump's agenda while casting her Democrat opponent as indebted to Senate Minority Leader Chuck Schumer (D-NY).
Last week, Blackburn warned of what a Democrat majority in the Senate would look like:
If Chuck Schumer were majority leader, Dianne Feinstein would be the chairman of the Judiciary Committee. Now imagine that. Imagine what would happen with Elizabeth Warren, who would be chairman of the Finance Committee in the Senate, or Bernie Sanders who would chair the Budget Committee in the Senate. These are the people that would be running the show for the Democrats. … Tennesseans would never go to the polls and vote for Dianne Feinstein, or Bernie Sanders, or Elizabeth Warren, but a vote for Phil Bredesen is a vote for every one of them.
Despite digital subversion of her campaign by both Google and Twitter, Blackburn held an eight-point lead over Bredesen in a Sunday-published poll via CBS/YouGov. An average of recent polls has Blackburn leading Bredesen by 2.7 points.
http://feedproxy.google.com/~r/breitbart/~3/Sz_SuZz__zI/