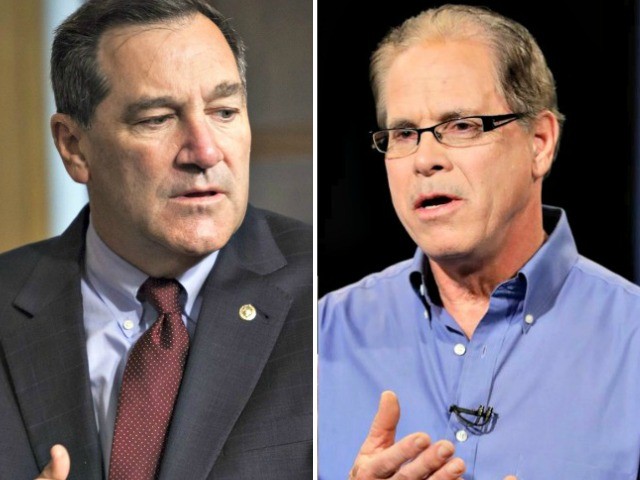 Democrat Senator Joe Donnelly (D-IN) will face Republican challenger and former state representative Mike Braun Monday night in the first of two general election debates. A close race from the start, the recent showdown over Supreme Court Justice Brett Kavanaugh is expected to play a role.
Hosted by the independent Indiana Debate Commission at Purdue University, the one-hour debate will begin at 7:00 p.m. Eastern, and will be moderated by longtime Indiana broadcaster Anne Ryder. Lucy Brenton, a third, libertarian candidate, will also participate.
In recent weeks, the race between Donnelly and Braun has remained neck-to-neck. The latest polling average shows Donnelly with a 2.5 point lead.
On Saturday, Donnelly voted against the confirmation of Brett Kavanaugh to the U.S. Supreme Court, previously describing the allegations of sexual assault against Kavanaugh as "disturbing and credible".
"Donnelly faces a competitive race in a state that Donald Trump won by 19 points during the 2016 presidential election," reports Breitbart News' Sean Moran:
[A Fox News survey] found that 29 percent of Hoosiers said that a vote against Kavanaugh for the Supreme Court would make it less likely for them to support Donnelly in the fall midterm election, while 21 percent said they would support the Indiana Democrat and 38 percent suggested it would not make a difference.

The poll also found that 54 percent of Hoosiers approve of Trump's job performance.
Breitbart News' live stream is scheduled to begin at 7:00 p.m. Eastern.
http://feedproxy.google.com/~r/breitbart/~3/FtsRdDdfHMM/