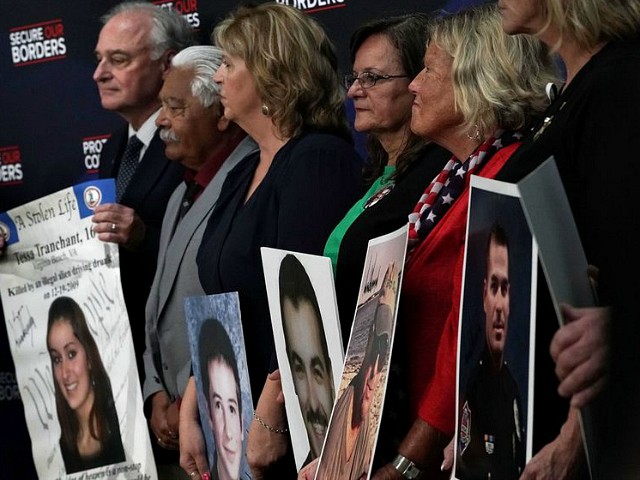 Angel families will be joined by current and former elected officials and pro-Trump groups Wednesday calling on Congress to secure the border.
Angel families, those who have a loved one who was killed by an illegal alien, will gather with others calling for border security at the U.S. Capitol building's House Triangle at 10 a.m. Eastern.
"America First Policies is pleased to announce it will join Women for Trump and U.S. Congresswoman Liz Cheney to host a "Secure the Border" press conference tomorrow, February 13, to stand with Angel Families from around the country and support efforts to secure our nation's border," a release from America First Policies announced.
Joining the angel families are groups Women for America First, We Build the Wall, Advocates for Victims of Illegal Alien Crime, and Angel Families.
"America First Policies is honored to stand alongside the courageous families of the thousands of Americans who have lost their lives at the hands of illegal immigrants," said America First Policies communications director Erin Montgomery. "No family should have to endure the pain and suffering that these families have experienced. We cannot wait another day for Congress to follow President Trump's lead and put the safety and security of the American people first."
America First Policies went on to list its investment in fighting to build a wall at the U.S. southern border and those who will participate in Wednesday's rally at the Capitol:
America First Policies has invested more than $1.2 million in the fight to build the border wall–a campaign that includes TV and digital ads featuring Angel Moms Michelle Root and Mary Ann Mendoza and former U.S. Border Patrol Chief Mark Morgan, all of whom will attend tomorrow's event. The group also developed a real-time ticker that shows an estimate of how many illegal immigrants have attempted to cross the southern border since Jan. 1, 2019.

The following is a detailed list of who will be in attendance tomorrow. As members of Congress and other leaders RSVP to the event, this list will be updated.

*U.S. Congresswoman Liz Cheney of Wyoming

*Amy Kremer, Women for Trump

*Tom Homan, Former Acting Director of Immigration and Customs Enforcement (ICE)

*Mark Morgan, Former Chief of the U.S. Border Patrol during the Obama administration

*Kris Kobach, Former Kansas Secretary of State

*Radio host Rose Tennent of "Rose Unplugged"

Angel Families & Families of Opioid Victims:

*Wendy Corcoran – Angel Mom

*Avery Corcoran – Angel Sister

*Sabine Durden – Angel Mom

*Maureen Laquerre – Angel Sister

*Maureen Maloney – Angel Mom

*Mary Ann Mendoza – Angel Mom

*Susan Stevens – lost daughter to opioids

*Vickie Lyon – Angel Mom

*Kathryn Hall – Angel Mom

*Agnes Gibboney – Angel Mom

*Michelle Root – Angel Mom

*Judy and Tony Zieto – Angel Mom & Dad

*Laura Wilkerson – Angel Mom

*Marie Vega – Angel Mom

*Melanie Kortlang – Angel Mom

*Shellie Woods – Angel Mom

*Dennis Bixby – Angel Dad

*Lori & Cristin Vargas – Angel Mom & Aunt

*Gene Vargas – Angel Dad

*Angelina Vargas – Angel Mom

*Marla Wolff – Angel Wife

*Dan Ferguson – Angel Dad

*Kiyan Michael – Angel Mom

*Boni Driskell – Angel Mom

*Cynthia Scalf – Angel Mom

*Don Rosenberg – Angel Dad

*Arlene Cohen – Angel Mom
Michelle Moons is a White House Correspondent for Breitbart News — follow on Twitter @MichelleDiana and Facebook
http://feedproxy.google.com/~r/breitbart/~3/rplTgglEYnU/