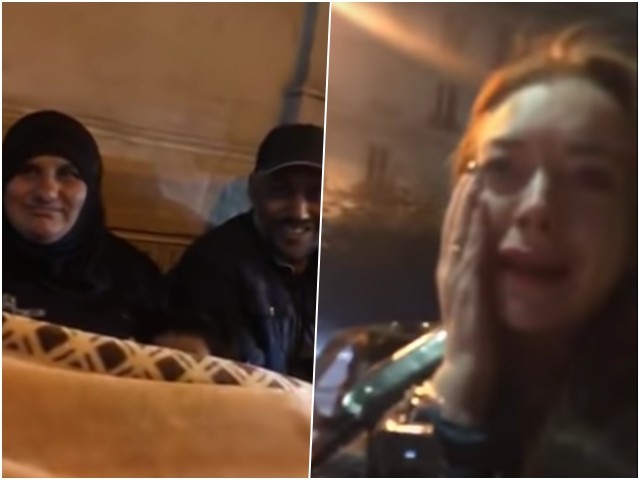 Actress Lindsay Lohan is accused of trying to kidnap homeless children on the streets of Moscow, Russia, after she posted a video of herself confronting what appears to be a homeless Muslim family.
After a long night of partying — also documented on her Instagram Live — Lohan appears to get out of her car after she spots a Muslim family of four sleeping on the street in Moscow.
Lohan begins talking to the family in a broken English accent, despite having been born and raised in Long Island, New York.
"Hey everyone, I just want to show you a family that I met," Lohan says, despite having not met the family. "A Syrian refugee family that I'm really worried about. They really need help."
This is when Lohan begins insisting that the two children come with her to a hotel room to watch movies, leaving their parents behind. The parents continue telling the former child star that their children are not leaving with Lohan.
"You should not have them [your sons] on the floor, you should be a hard-working woman and you should be doing what you [can] for your children, so they have a better life," Lohan tells the children's mother.
"If someone is offering them a home and a bed, which is me at the moment, give it to them," Lohan continues. "They will come back to you."
Lindsay Lohan has lost it… wtf??? pic.twitter.com/c9HSmOZNRw

— Say My Name (@Redeezus) September 29, 2018
The family of four then starts to stand up and begin walking in order to get away from Lohan, but the actress follows them with her camera and Instagram Live streaming to her more than 6.8 million followers.
As the family walks off, Lohan begins accusing the two adults of trafficking and smuggling children, refusing to leave until she takes their children.
"I won't leave until I take you," Lohan says. "Now I know who you are. Don't f*ck with me."
"Look what's happening, they're trafficking children … You're ruining Arabic culture by doing this," Lohan says.
"You're taking these children, they want to go," Lohan says. "I'm with you boys, don't worry, the whole world is seeing this right now."
When Lohan asks the parents where they are from, the allegedly respond by saying they are from Pakistan, to which the actress says, "Don't fuck with Pakistan!"
Eventually, after following the family for what appears to be more than a block, the mother of the children turn around and appear to punch Lohan, knocking her to the ground and eventually howling as she cries on her Instagram Live post.
Several media outlets reported that Lohan's attempt to take the children from their parents amounted to kidnapping.
Several social media users chimed in with a similar take.
Uhh Lindsay Lohan just posted an Instagram video of her trying to kidnap a boy in Russia.

— Melissa Stetten (@MelissaStetten) September 29, 2018
Lindsay Lohan really just tried to kidnap two children on instagram live oh my GOD

— Lindsay Lohan's Sober Coach (@LiLosSoberCoach) September 29, 2018
Lindsay Lohan just tried to steal two refugee children live on instagram and then the mom attacked her. What a wonderful time to be alive.

— LizSetsFire (@LizSetsFire) September 29, 2018
John Binder is a reporter for Breitbart News. Follow him on Twitter at @JxhnBinder. 
http://feedproxy.google.com/~r/breitbart/~3/qbr023lig_M/