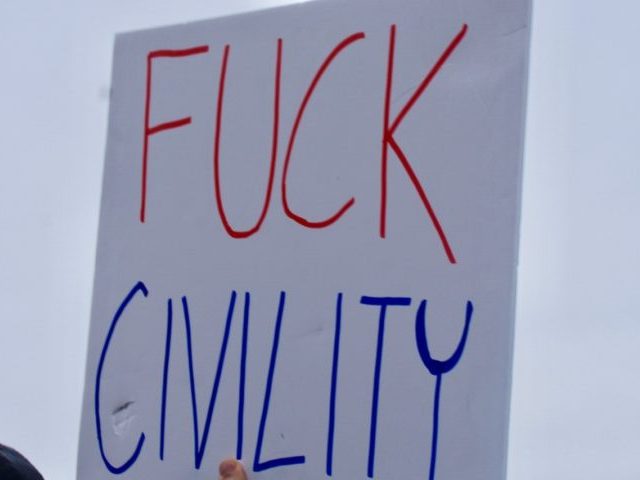 A leftist protester at American University was filmed screaming at a conservative who was hosting conservative filmmaker Dinesh D'Souza on campus. D'Souza commented on the protester during his speech, saying, "And he goes, 'You don't know what it means to be a person of color.' And I thought, well if there is one thing I do know, it's that."
‼️ THIS JUST IN ‼️ Deranged leftist has a complete mental breakdown over @DineshDSouza speaking at @AmericanU tonight. Someone get him some help… #onlyatYAF

Tune to see the reaction to what D'Souza has to say LIVE tonight ➡️ https://t.co/xzzVdJYVDb pic.twitter.com/gOvEV4HaWU

— YAF (@yaf) November 7, 2018
A leftist protester was caught on film screaming at a conservative student activist this week. The meltdown came in response to a scheduled lecture from conservative filmmaker Dinesh D'Souza at American University in Washington D.C.
"You should crawl back into your mother's rancid womb, gestate for a few more hours, slide back out, and then learn something about not being an entitled, white piece of shit," the protester screamed.
"Because motherfuckers like you come here and you have no idea what it's like to be gay, to be a person of color, to know what it's like to live with institutional racism, sexism, homophobia, transphobia," he said, to an inaudible response from the student.
The protester then blamed conservative speech for mass shootings around the country. "I don't believe people should be promoting hate speech that leads to mass shootings by angry, white, Brock Turner motherfuckers like you," he shouts.
"If I were your father, I'd kill myself," the protester said before the video cuts off.
In the lecture, D'Souza addressed the protester, specifically the portion where the protester argued that the student had no idea what it is like to be a person of color. "I just saw, on social media, a video of a protester screaming about my presence here tonight, a white guy. And he goes, 'You don't know what it means to be a person of color.' And I thought, well if there is one thing I do know, it's that."
You can watch D'Souza's lecture below.
http://feedproxy.google.com/~r/breitbart/~3/-dyUOH4BTc8/