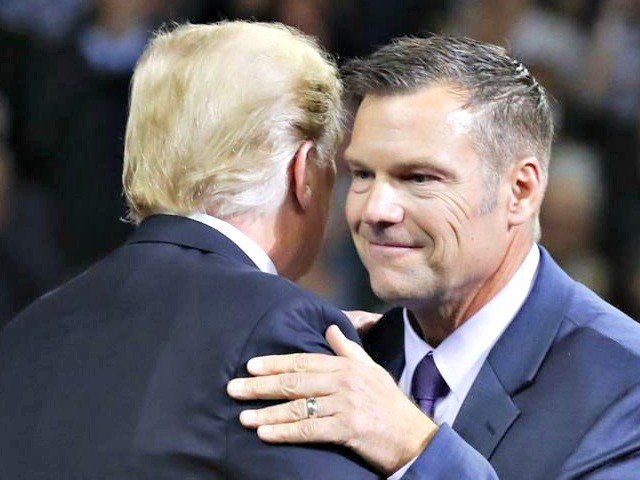 Kansas Secretary of State and gubernatorial candidate Kris Kobach rallied with President Trump in Topeka, Kansas on Saturday evening, railing against illegal immigration as a national security threat.
While campaigning with Trump at one of the president's famous "Make America Great Again" rallies, Kobach thanked Trump for his work on trying to end illegal immigration and promised Kansans that when he is governor, he will do the same.
"It's time to put Kansans first, not illegal aliens," Kobach said as the crowd chanted "USA! USA!"
"I want to give President Trump credit … we've worked on a number of things, but the most important is stopping illegal immigration," Kobach said. "I'm so glad that America has a president who gets it and that illegal means illegal."
"I will not, and I know President Trump will not, allow our immigration system to be used again as a weapon to harm the American people," Kobach said. "Stopping illegal aliens is not just about jobs, it's not just about crime, it's about our nation's security and that comes first."
Kobach laid into his Democrat opponent Laura Kelly for her support of illegal immigration during her time as a state legislator.
"Did you know that my opponent voted to continue allowing sanctuary cities in Kansas," Kobach asked. "She did … when I'm governor, God willing, sanctuary cities will end in this state."
"Laura Kelly also voted to allow illegal aliens to continue getting welfare benefits," Kobach said. "So while we're struggling to pay our electricity bill, to pay higher taxes, we're meanwhile giving taxpayer dollars to illegal aliens. Is that fair? It's time to stop illegal aliens from getting taxpayer dollars."
Trump encouraged his supporters in the state to "get out and vote for my friend, Kris Kobach" on November 6.
John Binder is a reporter for Breitbart News. Follow him on Twitter at @JxhnBinder. 
http://feedproxy.google.com/~r/breitbart/~3/s0t1Cn_SXBw/