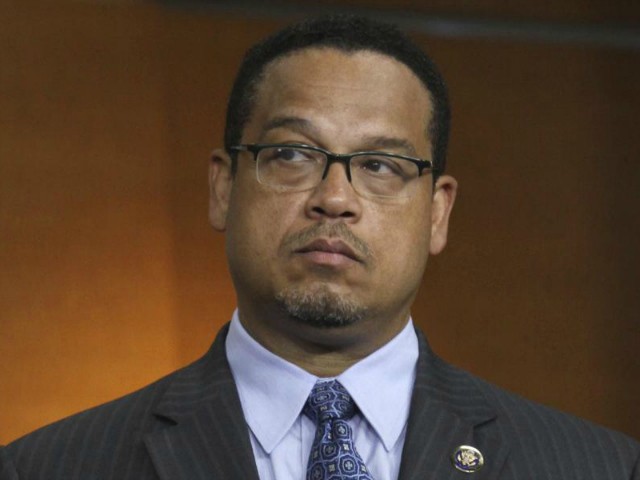 Rep. Keith Ellison (D-MN) claimed in a televised debate for Minnesota's attorney general position Friday that his accuser fabricated her domestic abuse allegations against him.
The Democratic National Committee (DNC) co-chair dismissed allegations that he abused his ex-girlfriend, Karen Monahan, claiming Monahan falsified her story and that he is not sure if others would "cook up" allegations against him for political purposes.
Monahan, who posted a tweet Wednesday with a photo of a 2017 medical document identifying Ellison as her abuser, has been dragged through the mud by the Democrat Party since she came forward in 2017 with her allegations against Ellison:
When I post this, it gets deleted every time pic.twitter.com/uAJNx8AgF5

— Karen Monahan (@KarenMonahan01) September 19, 2018
Ellison doubted the credibility of the medical record because it was written a year after his relationship with Monahan ended, adding that he is sure an "ongoing investigation" will disprove Monahan's claims.
"There is an ongoing investigation," Ellison said during the debate, "which we hope will conclude…"
"Will that be done before the election?" a moderator asked.
"I don't know," Ellison responded. "It's an independent investigation."
Ellison's Republican challenger, Doug Wardlow, hit back against Ellison, claiming an independent investigator would not review Monahan's allegations.
"It's not an independent investigation!" he said. "It's independent by your friends and fellow Party members. That's not an independent investigation."
The debate moderator mentioned that Ellison "declined" Monahan's alleged offer to meet with both him and an independent investigator, asking the Minnesota Democrat if those claims were true.
"Well, because I—we broke up two years ago for a reason…" Ellison responded. "I didn't want to be in the relationship, and, therefore, I left the relationship. And to get back in touch with her again is not something that I am interested in doing."
The debate moderator then pressed the Minnesota Democrat further, asking if he was sure no other accusers would come out of the woodwork.
"Look, in this political environment, I don't know what somebody might cook up," Ellison replied. "But I could tell you that there is absolutely nobody that I am aware of who has any sort of—who is threatening or suggesting or who has ever made a prior accusation about me."
Wardlow fired back at Ellison, stating that "two credible, strong allegations of domestic abuse is enough."
"There's documentary evidence. We have a medical record where we have Monahan reported to her doctor the abuse that was going on," Wardlow said.
http://feedproxy.google.com/~r/breitbart/~3/SucqPGMPfKY/