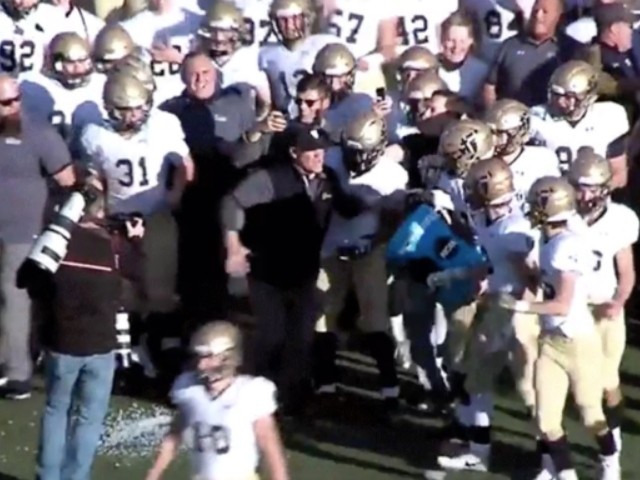 It gets really cold in Kansas, and as such, it probably isn't the kind of place where one wants to get doused by ice cold drinks outdoors.
However, there's got to be a better way of reacting to an ice bath than this.
St. Thomas Aquinas High School in Kansas won their first state championship over the weekend. One would think that such an achievement would lead to a relaxed, care-free environment where almost anything would go. But one would be wrong to think that when it comes to Aquinas coach Randy Dreiling.
As the two teams were making their way to the middle of the field to shake hands after the game, Dreiling got an ice bath from two of his players. As it turns out, that was not a good thing to do:
Looks like he overracted pic.twitter.com/hs6F8NW5Fh

— Matt Scott (@KUTheShiver) November 25, 2018
Not only does the coach go after the player who gave him the ice bath, but he then turns his fury on the poor kid who just happens to be filming the thing behind him.
After the incident coach Dreiling was asked by a reporter from the Wichita Eagle about the ice bath and his reaction to it.
"No, not a fan of the ice bath. No, nobody ever gives me ice baths. That was a bad deal."
Clearly.
Follow Dylan Gwinn on Twitter @themightygwinn
http://feedproxy.google.com/~r/breitbart/~3/Md-U4cgt9TU/