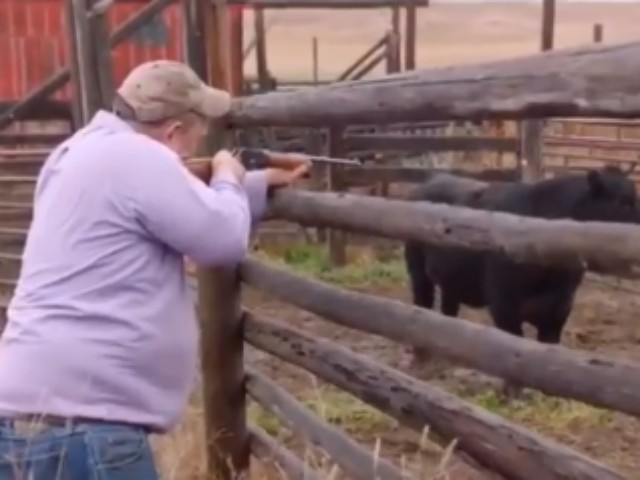 Sen. Jon Tester (D-Mont.) is great at shooting cows on his Montana land but terrible at supporting pro-gun judicial nominees for the Supreme Court.
In fact, Breitbart News reported that Tester voted to confirm Barack Obama's anti-gun SCOTUS nominees, Sonia Sotomayor and Elena Kagan, then sided with Sen. Chuck Schumer (D-NY) against both of President Trump's pro-gun nominees, Neil Gorsuch and Brett Kavanaugh.
The NRA's Political Victory Fund downgraded Tester to "D" rating this week due to his opposition to pro-gun nominees:
#MONTANA: @NRAPVF downgraded @SenatorTester's rating to "D" after he voted against confirming Judge Kavanaugh to #SCOTUS. "@JonTester cannot be trusted to stand with @realDonaldTrump and support our fundamental right to self-defense," said @ChrisCoxNRA. ➡️ https://t.co/FF62buEmH4 pic.twitter.com/e7q4pADq6V

— NRA (@NRA) October 9, 2018
When Senate challenger Matt Rosendale (R-Mont.) retweeted the NRA's "D" rating, Tester's communications director quickly responded:
While you were busy making your millions developing Maryland farmland, @jontester was making a living shooting hundreds of cows and hogs. So I think Montanans know who gets guns. #mtpol #mtsen https://t.co/inVR3iW3Th

— Chris Meagher (@chrismeagher) October 9, 2018
This, in turn, led David Burge to opine, "Who should they cast to star in the 'Jon Tester: Cow Assassin' franchise?"
And a video emerged of Tester allegedly shooting a cow:
Shocked none of the outside groups picked up on the obvious cow-shooting closing argument that was hiding in plain B-roll sight. pic.twitter.com/yDhXgjO8Fk

— Liam Donovan (@LPDonovan) October 10, 2018
Jon Tester, cows fear him, but anti-liberals love him.
AWR Hawkins is an award-winning Second Amendment columnist for Breitbart News, the host of the Breitbart podcast Bullets with AWR Hawkins, and the writer/curator of Down Range with AWR Hawkins, a weekly newsletter focused on all things Second Amendment, also for Breitbart News. He is the political analyst for Armed American Radio. Follow him on Twitter: @AWRHawkins. Reach him directly at awrhawkins@breitbart.com. Sign up to get Down Range at breitbart.com/downrange.
http://feedproxy.google.com/~r/breitbart/~3/YYuDBnad2Do/