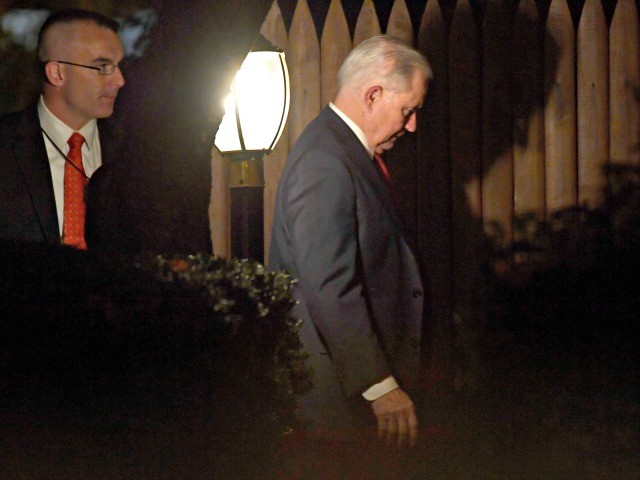 After announcing his resignation at the request of President Trump on Wednesday, Attorney General Jeff Sessions exited the United States Department of Justice surrounded by standing and cheerful colleagues.
The clip shows Sessions shaking hands with his chief of staff Matthew Whitaker, who is set to replace him as acting attorney general.
WATCH:
NEW: Former Attorney General Jeff Sessions exits the Department of Justice to applause by colleagues and staff after submitting his resignation at Pres. Trump's request. https://t.co/doj6afFGdO pic.twitter.com/Hc43SzplKx

— ABC News Politics (@ABCPolitics) November 7, 2018
Other Justice Department officials attended the publicized exit of Sessions, including Deputy Attorney General Rod Rosenstein.
In his resignation letter to President Trump, Sessions said, "I have been honored to serve as Attorney General and have worked to implement the law enforcement agenda based on the rule of law that formed a central part of your campaign for the presidency."
"I came to work at the Department of Justice every day determined to do my duty and serve my country," Sessions stated in the letter. "I have done so to the best of my ability, working to support the fundamental legal processes that are the foundation of justice."
In a tweet on Wednesday, President Trump announced Matthew Whitaker would take over as acting attorney general.
We are pleased to announce that Matthew G. Whitaker, Chief of Staff to Attorney General Jeff Sessions at the Department of Justice, will become our new Acting Attorney General of the United States. He will serve our Country well….

— Donald J. Trump (@realDonaldTrump) November 7, 2018
Whitaker will now take on oversight of Robert Mueller's probe, which Rosenstein had been watching over since Sessions's recusal last year.
Follow Kyle on Twitter @RealKyleMorris.
http://feedproxy.google.com/~r/breitbart/~3/1utH2aaBQbM/