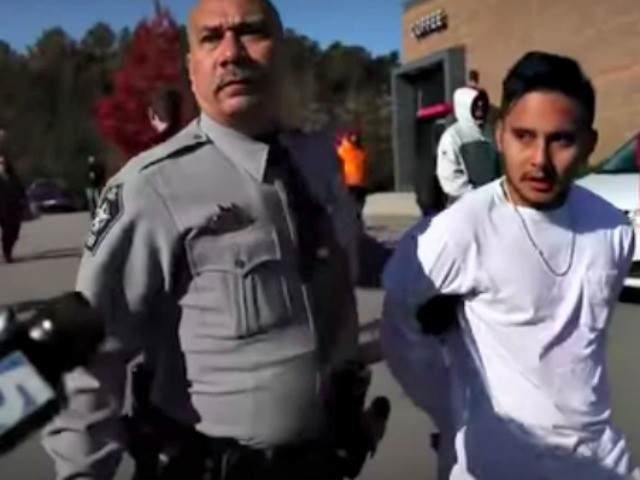 An Immigration and Customs Enforcement agent was assaulted on Friday after Samuel Oliver-Bruno, an illegal immigrant, was arrested during a scheduled appointment with U.S. Citizenship and Immigration Services in Morrisville, North Carolina.
Oliver-Bruno, 47, had been living in CityWell United Methodist Church in Durham, NC, for the past eleven months while he petitioned to have his deportation to Mexico delayed, The News & Observer reported.
According to Alerta Migratoria, an advocacy group for the rights of immigrants, Oliver-Bruno left the church on Friday after the U.S. Citizenship and Immigration Services requested Oliver-Bruno appear in person to provide fingerprints.
WATCH:
Oliver-Bruno, originally from Veracruz, Mexico, was accompanied by family members, supporters, and religious leaders as he ventured inside the U.S. Citizenship and Immigration Services office.
CityWell's pastor, Cleve May, joined Oliver-Bruno and expressed his concern with his immigration status, while thanking supporters.
"Your presence here is a very helpful thing in demonstrating the community support and the fact that if any violation of this due process were to occur it will not go unwitnessed and it will not go before the community crying out for justice," May said.
Once inside the office, Oliver-Bruno and his son, Daniel Oliver Perez, got into a tussle with immigration officers. Oliver-Bruno was then arrested.
Oliver-Bruno was arrested and taken outside, where he was placed in a van belonging to the Department of Homeland Security. Oliver-Bruno's supporters gathered around the van for nearly two hours and refused to move as they sang and chanted.
Perez was arrested and charged with assault on a government officer by local law enforcement, after he approached the front driver's side door of the van and latched onto an ICE agent that sat in the driver's seat. As he was placed in handcuffs and walked away from the area, Perez claimed he was "trying to defend" his dad.
Several protesters gathered around the van and prevented it from leaving the area. After they refused to disperse and allow ICE to transport Oliver-Bruno, local law enforcement stepped in and arrested 27 of the demonstrators.
Follow Kyle on Twitter @RealKyleMorris.
http://feedproxy.google.com/~r/breitbart/~3/UNEdh5dDvJg/