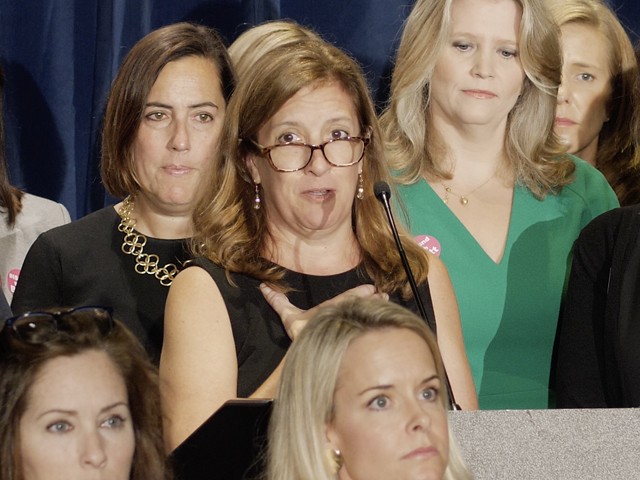 Maura Fitzgerald, a friend of Judge Brett Kavanaugh since the two were in high school who briefly dated the future judge in college, defended the Supreme Court nominee along with more than 75 other women at Friday's "#IStandWithBrett" press conference.
"I want to make something clear — very, very clear. For me, this is not political. … My being here has nothing to do with politics," Fitzgerald said as she stood on stage with the other Kavanaugh-supporting women at Washington, DC's, JW Marriott hotel. "I'm here because I felt it important to share my perspective on Brett's character and to talk about a man that I have known for over 35 years."
Like the other speakers, Fitzgerald was offering her experience with Kavanaugh in light of California professor Christine Blasey Ford's allegation that more 35 years ago, a teenage Kavanaugh assaulted and groped her at a high school party. The allegation, withheld during Kavanaugh's extensive confirmation hearings, has thrown his confirmation process into turmoil and jeopardized his ability to take a seat on the Supreme Court before the October 1 start of the Court's new term.
"The allegation against Brett is inconsistent with everything that I have known about him as a person," Fitzgerald said. "In both public and private, Brett treated me and everyone I know with respect. He has always been kind and good-natured. He has always been caring and concerned with the well-being of others."
Fitzgerald recounted how Kavanaugh had written her a note offering support when her friend was in a coma after a car wreck. "That was very typical of Brett, openly and unabashedly delivering care and compassion," she said. "To my recollection, he was the only friend, male or female, who wrote a note to me after that terrible time."
Fitzgerald also recalled Kavanaugh as gracious guest at her parents' vacation home when they were growing up. "It was a full house, but Brett was always welcome. He was polite and considerate to my siblings and to the parents," she told the audience.
"Brett was the kind of you wanted to take home to meet your parents. Brett was then, and still is, a stand up guy," Fitzgerald concluded, yielding the podium to the next of the six women who spoke to offer her story of knowing Judge Kavanaugh.
http://feedproxy.google.com/~r/breitbart/~3/Sxc6MbS5df8/