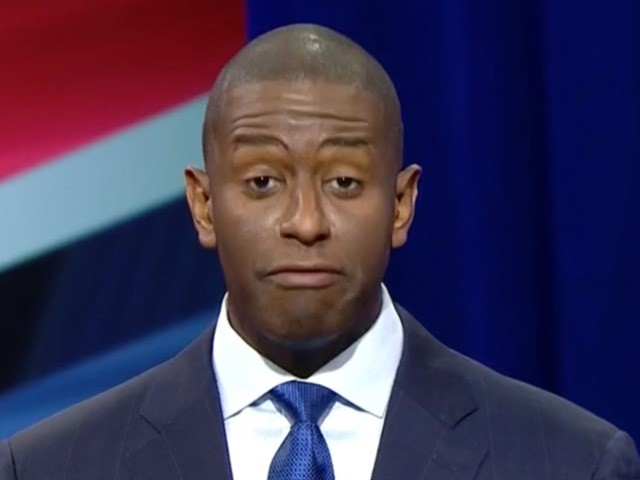 During Sunday's Florida gubernatorial debate, Tallahassee Mayor Andrew Gillum, the Democratic Party Florida gubernatorial nominee, discussed the FBI investigation into corruption in his city and trips Gillum took to Costa Rica and New York City with lobbyists.
Gillum replied by saying he was a "grown man" who pays for his own vacations. However, he never directly shot down the accusation he made the trips with lobbyists and in exchange gave them a $2 million grant.
"You know, we all have friends that sometimes let us down, and the truth is the let me be very clear about what the record is. I am not under FBI investigation and neither is my city government," Gillum stated. "And what we have done is we welcomed them in. If there is someone who has done something wrong, they ought to be held fully accountable for their actions."
He continued, "We've made every public record available on a publicly searchable website in our city. Contrast how I've dealt with the FBI in comparison by how Mr. DeSantis deals with the FBI. He's gone out of his way before he quit his job in Congress to protect Donald Trump, to curb the inquiry by Mr. Mueller. He has gone even so far as to suggest that some deep state is at work to undermine the presidency. I mean, he's a conspiracy theorist, if you will. So, if you take the way we've dealt with their investigation as opposed to how Mr. Desantis has dealt with it, I'll take our example every single day of the week."
Gillum's Republican opponent, Ron DeSantis, responded, "You went to a Broadway show with an undercover FBI agent. You went to Costa Rica with these same lobbyists, and guess what happened. The lobbyists that wined and dined Andrew — they got a $2 million grant from the city government. To me, corruption is when you're in a position of power, you're getting something you shouldn't have had. He shouldn't have gotten the Broadway tickets, he shouldn't have gotten the trip to Costa Rica and then you give something to someone in return. He gave $2 million to those same lobbyists."
"First of all, I'm a grown man. My wife and I take vacations and we pay for our own vacations. I didn't get anything in life for free. I got it by working for it, so if the congressman is suggesting that because I have friends that — I don't choose their professions, that somehow that makes me in some way less than ethical," the mayor replied.
DeSantis continued to press Gillum on whether or not he paid for the trip to Costa Rica or to see Hamilton in New York.
"Here's the direct answer: I don't take free trips from anybody," said Gillum. "I'm a hard-working person. I know that may not fit your description of what you think people like me do, but I worked hard for everything that I've gotten in my life, and I don't need anybody handing me anything for free."
Follow Trent Baker on Twitter @MagnifiTrent
http://feedproxy.google.com/~r/breitbart/~3/tErMsLaGv0Y/