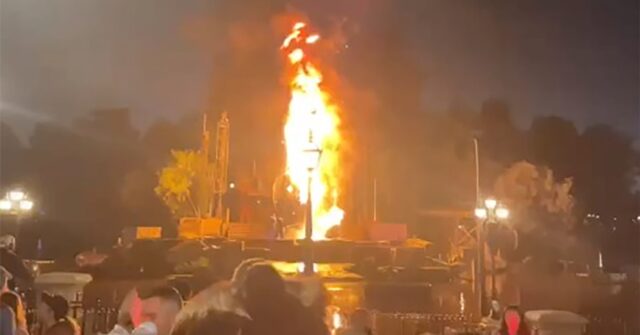 A giant 45-foot-tall animatronic dragon exploded into flames and sent parkgoers fleeing for the exits during a popular Disneyland performance Saturday night.
The theme park's "Fantasmic!" show at the Tom Sawyer Island attraction was the scene of the Disneyland conflagration captured on multiple videos shared across social media.
Fantastic Fantasmic fail – wow! #fantasmic #disneyland pic.twitter.com/MZhNJhEXrB

— JessicaT (@Ms_JessicaT) April 23, 2023
Just watched Fantasmic Dragon catches on fire at Disneyland 😢 #disney pic.twitter.com/49yTBA2MR7

— mlg (@MelissaLeeGiles) April 23, 2023
The New York Post reports the show was abruptly stopped as guests and Disneyland cast members were rushed away.
They were replaced by emergency personnel who extinguished the fire which was seen consuming the body of the giant dragon.
"Due to unforeseen circumstances, this performance of "Fantasmic!" cannot continue," an announcement told park attendees. "We apologize for any inconvenience this may cause."
Moments before the whole dragon caught on fire 🔥 😬 #DisneyOnFire #disneyland #Fantasmic pic.twitter.com/aWkoqHmLUG

— MR.B1ZZ.eth (@LearnThisBiz) April 23, 2023
The Anaheim Fire Department responded to the blaze and reported no injuries, according to ABC 7.
The area around Frontierland was cordoned off with the remainder of the park kept open, a witness told the outlet.
"Fantasmic!" is a live 27-minute show incorporating colorful water and fireworks at the Rivers of America in the park.
The popular attraction opened in 1992.
Follow Simon Kent on Twitter:

Follow @SunSimonKent

or e-mail to: skent@breitbart.com



https://www.breitbart.com/entertainment/2023/04/23/watch-giant-disneyland-dragon-explodes-into-flames-during-fantasmic-show/