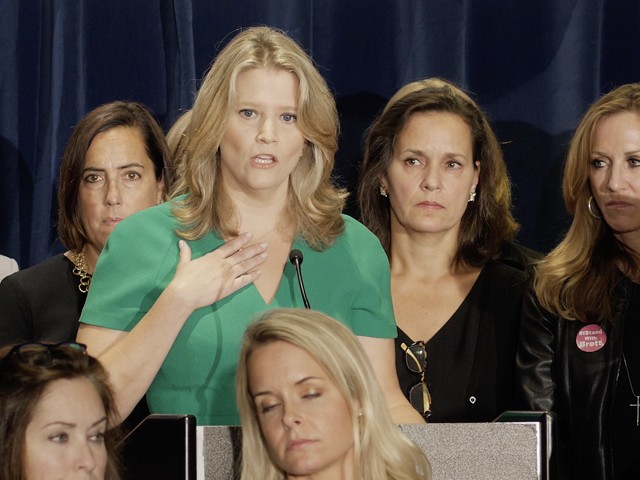 Sara Fagen, a friend and former colleague of Supreme Court nominee Brett Kavanaugh, recounted Friday how the future Judge offered her moral support moments following the terror attacks of September 11, 2011.
Speaking before the "#IStandWithBrett" press conference in Washington, DC, Fagen, a George W. Bush White House political director, said of Kavanaugh, "Our friendship was forged on 9/11, the fateful day when many of my colleagues and I hastily left the White House after being told by a Secret Service agent to run as fast as we could. Within seconds, I was in a sea of strangers walking up 17th Street — scared and alone — with nothing in my pocket."
Fagen continued, "I looked up, and there was Brett Kavanaugh. My colleague took care of me that day. He made sure I was safe, had food and money, and also made sure I got home safely that evening. The days after 9/11 in the White House were long and stressful, but Brett took the time to follow up with me and ensure I was doing okay. For me, running into Brett Kavanaugh that day was a gift."
The conference, attended by around 75 women, took place as the Supreme Court nominee faces a 36-year-old sexual misconduct allegation leveled by California psychology professor Christine Blasey Ford. The accuser alleges Kavanaugh and a friend shoved her into a room and groped her during a Maryland house party in 1982 or thereabout.
Mike Judge, who the professor alleges was in the room with her and Kavanaugh told the Weekly Standard that the claim was "absolutely nuts."
In a statement Monday, Kavanaugh denied the claim, describing the decades-old allegation as "completely false."
"I have never done anything like what the accuser describes—to her or to anyone," the judge wrote. "Because this never happened, I had no idea who was making this accusation until she identified herself yesterday. "
Speaking with reporters earlier in the week, President Donald Trump defended his Supreme Court pick, describing Kavanaugh as an "outstanding man," and encouraged Ford to meet with the Senate Judiciary Committee.
"Look, if she shows up and makes a credible showing, that will be very interesting and we'll have to make a decision," President Trump said. "But I can only say this: he's such an outstanding man — very hard for me to imagine that anything happened."
http://feedproxy.google.com/~r/breitbart/~3/FTTgddUGvHg/