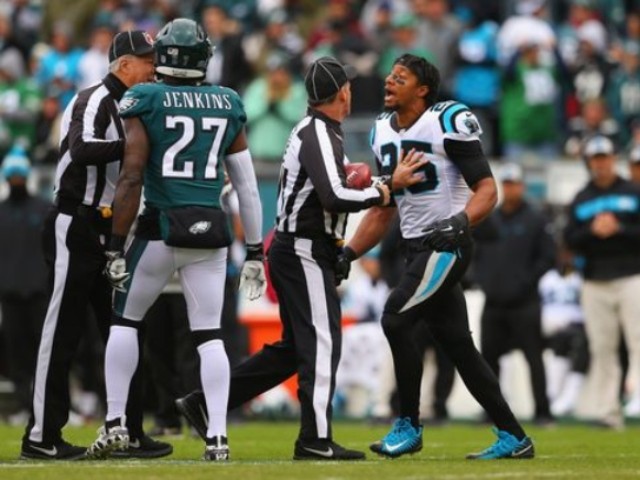 There was a time when Carolina's Eric Reid and Philadelphia's Malcolm Jenkins were allies fighting for the cause of social justice. Well, those times are over.
Prior to Sunday's tilt between the Panthers and the Eagles, Reid and Jenkins had to be separated after nearly coming to blows:
Here's the TV replay of the altercation between Eric Reid and Malcolm Jenkins. That look in Reid's eyes says a lot https://t.co/Sy0X8LScZ0

— Marcel Louis-Jacques (@Marcel_LJ) October 21, 2018
While, as fellow anthem protesters, Reid and Jenkins would seem highly unlikely to be enemies, the history between the two is complicated.
Eric Reid and Malcolm Jenkins had a falling out over Players Coalition. After signing with #Panthers, Reid called it "an NFL-funded subversion group." Caught in middle of pregame altercation: Reid's teammate Torrey Smith, the former #Eagles WR who has praised Jenkins' leadership.

— Tom Pelissero (@TomPelissero) October 21, 2018
According to Black Sports Online, Reid also said:
Malcolm did text me this morning asking if we would be comfortable ending our demonstrations if the NFL made a donation. At that point, that was the last straw for me. He had a conversation with the NFL. We agreed that multiple people would be part of the conversations with the league so it just wouldn't be him. He didn't stand by his word on that. At no point did we ever communicate an agreement with the NFL to end the protest.

…

I haven't been satisfied with the structure of the coalition or the communication Malcolm has been having with the NFL on his own, speaking on behalf of protesting players when he doesn't protest. We communicated these concerns to him numerous times and have had numerous phone calls about it. Our concerns haven't been reflected with how the organization is being run, so I felt like I needed to make a departure from it.
Reid is in his first season with Carolina after missing the first few weeks of the season.
Follow Dylan Gwinn on Twitter @themightgywinn
http://feedproxy.google.com/~r/breitbart/~3/wy1Dva03hHY/