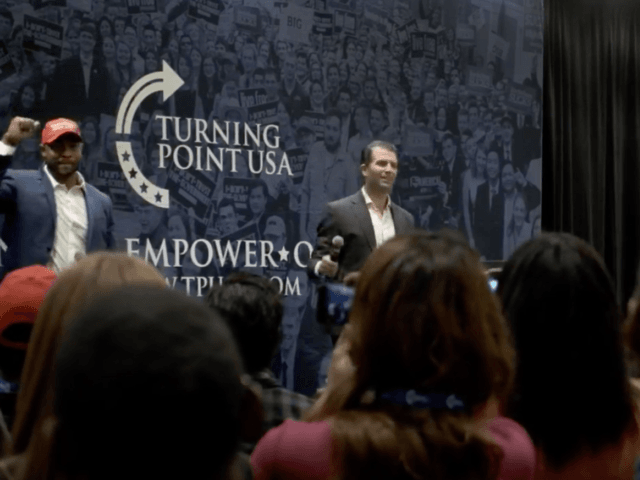 Donald Trump Jr. spoke to a room of young black conservatives on Thursday evening in Washington, DC, where he told the crowd that they "have the most guts of anyone in America" for espousing their conservative views.
"All the promises the Left has made, all the things they've said for years and years and years, what have they done?" Trump Jr. asked, kicking off the Turning Point USA event Thursday evening where hundreds of young black conservatives have gathered.
"I'm off the plantation!" shouted one attendee in the audience, who was met with loud applause by fellow event-goers.
Watch Donald Trump Jr.: "You guys have the most guts."
"What is [the Left] resisting? What is [the Left] really against when you look at the results?" Trump Jr. asked the audience.
"America!" Several attendees shouted in response.
"You know what they're resisting? They're resisting the fact that they're losing their stranglehold on entire communities," added Trump Jr., "The only thing they've ever been good at is marketing, and they've sold that one well, and they've taken advantage of it well, but that's why it's over."
Trump Jr. was met with applause and standing ovation several times throughout his opening remarks. The crowd glistened with red "Make America Great Again" hats, and with patriotic chants of "USA!"
Watch: Attendees Chant U-S-A!
"Anyone can take the stance, 'I'm pro-Hillary, I'm a liberal,'" said Trump Jr., "In Hollywood, anyone can do that. [Liberals] can say whatever they want, because you know what, there are no consequences to it. On our side, that's not the case."
"This is what America is about, and you guys are on the forefront — you are the tip of the spear fighting against the stranglehold that the Democratic Party has kept, and oppressed so many people for too damn long."
Check out the energy & passion

The largest ever young conservative black summit started tonight

I am sure @CNN @MSNBC @CBS @ABC will all be covering this, right?

This is an incredible gathering and worthy of national coverage

The movement is growing! @TPUSA @RealCandaceO pic.twitter.com/cfHtsyD0N9

— Donald Trump Jr. (@DonaldJTrumpJr) October 26, 2018
Watch the entire event below:
The attendees meet with President Donald Trump at the White House on Friday, and the summit will continue on throughout the weekend, and will conclude on Sunday, October 28th.
Breitbart News will be present and reporting live at the summit, providing footage of event speakers and exclusive interviews.
You can follow Alana Mastrangelo on Twitter at @ARmastrangelo and on Instagram.
http://feedproxy.google.com/~r/breitbart/~3/SrdTiU-MpHc/