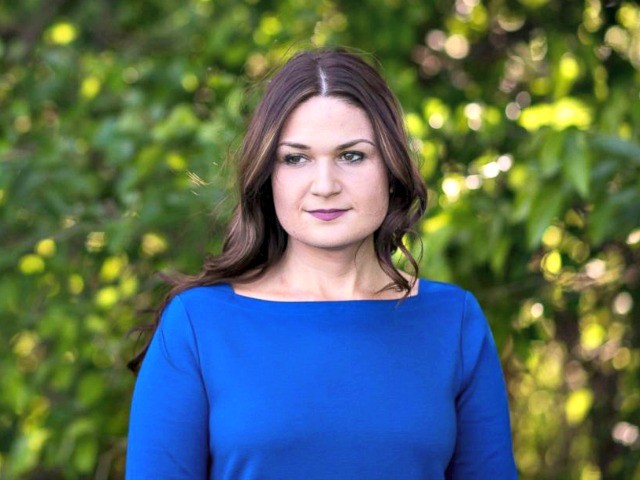 Democrat Abby Finkenauer, running against Rep. Rod Blum in Iowa's 1st Congressional District, says illegal aliens "desperately need" amnesty to permanently remain in the United States.
During a debate against Blum, Finkenauer said she supported amnesty for all 12 to 22 million illegal aliens living in the U.S., adding she supporters giving "earned citizenship" to the entire illegal population.
We desperately need a comprehensive immigration reform package. It's something again, I don't think Democrats or Republicans have gotten right … yes, we have to have border security. We've got to have an earned pathway to citizenship for the folks who are already here, bringing them out of the shadows, keeping our communities safe. [Emphasis added]

At the same time, we also have to have a pathway for our DREAMers as well and also we need to be investing in E-Verify, making that mandatory and also at the same time, making sure that we are funding it so that our business works as its supposed to. [Emphasis added]

…

Make sure that we have a pathway for our DREAMers and an earned pathway to citizenship for the folks who are already here so that we have safer communities. That's what we've got to do. [Emphasis added]
Finkenauer's support for amnesty for illegal aliens is particularly noteworthy, as she is running in the district where 20-year-old college student Mollie Tibbetts was allegedly murdered by an illegal alien.
Christian Bahena-Rivera, an illegal alien, has been charged with first-degree murder in Tibbetts' death after police say he admitted to confronting and chasing down the 20-year-old college student.
As Breitbart News noted, the illegal alien lived in Brooklyn, Iowa, a region that was surrounded by sanctuary cities.
Finkenauer also voted to support keeping sanctuary cities in the state of Iowa, Breitbart News reported.
Finkenauer has been leading against Blum in the most recent polling in the congressional district. A New York Times/Sienna Poll conducted last month put Finkenauer with 52 percent as Blum trailed with 37 percent.
http://feedproxy.google.com/~r/breitbart/~3/HILfIqyEHfo/