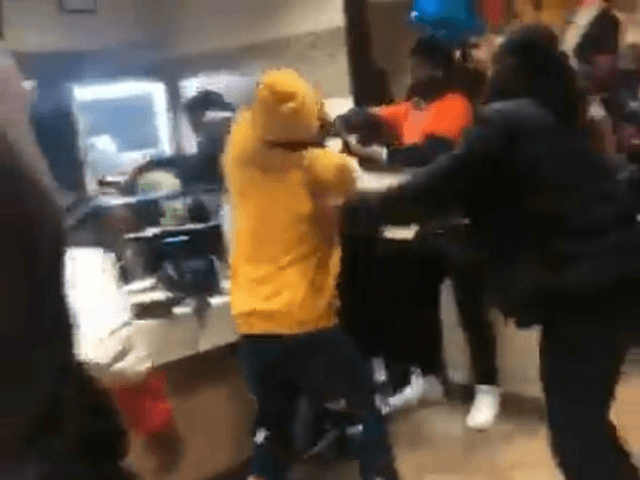 A massive brawl broke out in a Baltimore McDonalds on Friday evening, causing chaos as customers threw punches and smashed the counter, according to a video.
The video shows a group of people milling around the right corner of the fast food joint when one male customer threw a punch in another customer's direction. It is unclear how the brawl began or if law enforcement got involved.
The fighting escalated when customers began hopping over the counter to throw more punches. One person dressed in a yellow hoodie jumped the counter before throwing a punch and tackling someone already behind the counter.
The sound of metal trays and utensils crashing could be heard in the background as the commotion continued. Another customer wearing a blue top stole a cup from behind the counter, prompting others to do the same.
McDonalds employees looked bewildered at what happened in the store, appearing to be powerless in stopping the brawl.
Chris Thompson, of Baltimore, captured the melee on video, uploading the chaotic scene to Facebook on Friday evening.
His post went viral, racking up 1.9 million views and more than 38,000 shares as of Monday afternoon.
http://feedproxy.google.com/~r/breitbart/~3/tML6Wo7Awgo/