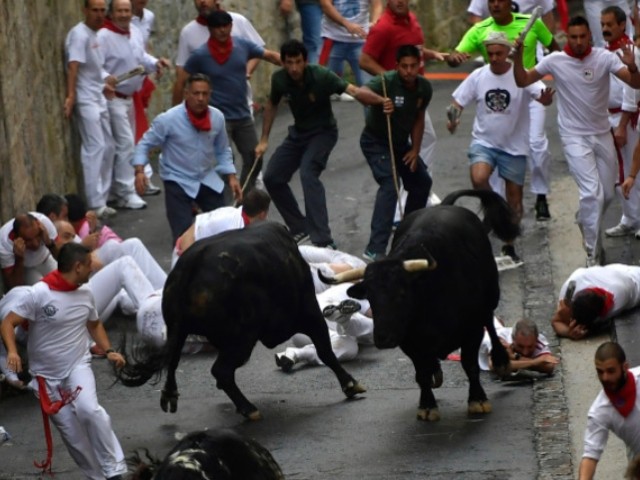 The startling video of a powerful bull tossing a Spanish festival-goer high into the air with its horns and then trampling him, is going viral this week.
The bull was being paraded at the Bou en Corda (Bull on Rope) festival in Ontinyent, a town in the Valencia region of Spain. But the bull broke loose from its minders and began rampaging through the crowd of over 100 festival attendees, according to the Daily Mail.
The frightening video shows the enraged bull running through the scrambling crowd until it comes upon a festival-goer in a powder blue overshirt. The bull then flips its horns behind the man sending him flying up into the air over the animal's back before landing crashing to the ground. The bull then tramples the man and attempts to gore him while he is down.
The man is tossed around like a rag doll as the bull mauls him with ease.
Spanish media reported that the man flung into the air was seriously injured, but also noted that an older woman was also seriously injured when the bull gored her into a wall.
In all, the media said up to 18 people were seriously injured by the rampaging beast.
Follow Warner Todd Huston on Twitter @warnerthuston.
http://feedproxy.google.com/~r/breitbart/~3/MkoHdqOy2Gc/