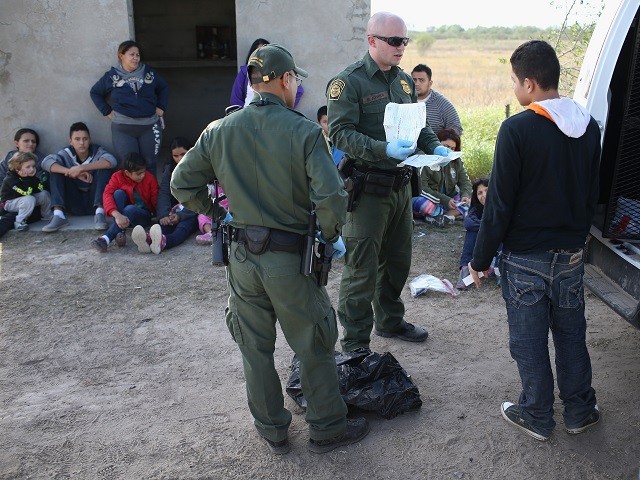 The chief Border Patrol official responsible for securing the busiest sector for illegal crossings says Congress must act to close loopholes that criminals are exploiting to bring families and unaccompanied minors into South Texas.
"If you look at our activity in this sector, 40 percent of all of the apprehensions along the southwest border, 43 percent of the marijuana seized, the interesting part of the apprehensions that we have (approximately 128,500 year-to-date), 50 percent of the total are comprised of family units and unaccompanied children," Rio Grande Valley Sector Chief Manuel Padilla, Jr. told Breitbart Texas Editor-in-Chief Brandon Darby in an exclusive interview. "This demographic here, there is not a law enforcement solution to that. That's going to require immigration reform closing the loopholes that exist in our immigration system."
Chief Padilla discusses the need for Congress to take action to close loopholes in the law being exploited by human smugglers begins at the 8:23 mark in the video below:
"The demographic of family units and unaccompanied children is a fairly new demographic that really manifested itself at really high levels in 2014," Padilla explained. "Just to put it in perspective, this sector alone apprehended about 51,000 family units and 51,000 unaccompanied children."
"The criminal element is always looking for loopholes in our and they have found it," Padilla told Darby. "This population, this demographic is turning themselves in to us. So when we're talking about solutions for border security, for this particular demographic, Congress is going to have to pass immigration reform at some point or another."
Padilla pointed out that this problem will present itself "until Congress passes immigration reform."
The sector chief patrol agent went on to tell Darby, "So that's half of the equation — immigration reform is a solution for half of it." He explained that the balance must be solved with personnel, technology, and infrastructure as we have done in the past."
The August Southwest Border Migration Report showed that Padilla's sector continues to lead the nation in the apprehension of family units, unaccompanied minors, and total apprehensions between ports of entry. In August, Border Patrol agents under Padilla's command apprehended 16,752 migrants. Of those, 7,094 were what Border Patrol classifies as Family Unit Aliens (FMUA) and 2,2354 were classified as Unaccompanied Alien Children. Those numbers were up from July's total of 13,241 migrants including 5,215 FMUAs and 1,921 UACs.
Darby pointed out that the rank-and-file agents and the National Border Patrol Council that represents the agents appear to have improved morale under the current administration. "This administration is very focused on border security," Padilla responded. "And truly, the core mission of the Border Patrol is border security. So, I think that has a lot to do with the agents and everybody in the organization being focused on the mission."
Bob Price serves as associate editor and senior political news contributor for Breitbart Texas. He is a founding member of the Breitbart Texas team. Follow him on Twitter @BobPriceBBTX and Facebook.
(Disclosure: Breitbart Texas sponsored the Green Line podcast for the NBPC in an effort to provide a platform for agents to inform the public about the realities on the border and what Border Patrol agents face. Director Brandon Darby received an award from the Laredo chapter of the NBPC for his work in helping to defend and bring a voice to Border Patrol agents. Breitbart News assisted in covering funeral costs for a slain Border Patrol agent previously.)
http://feedproxy.google.com/~r/breitbart/~3/xhF8lVz5VxU/