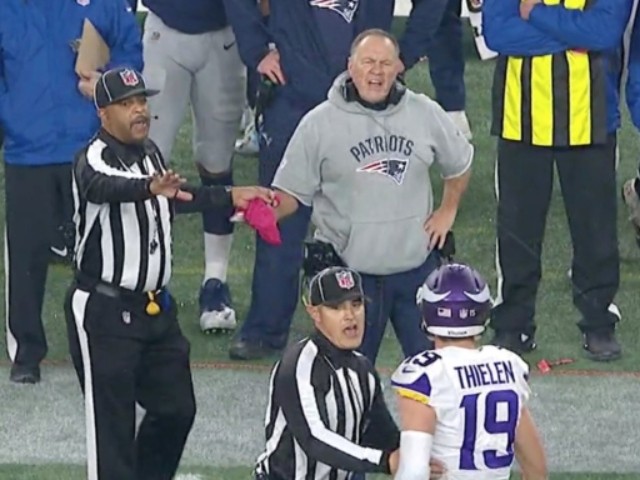 We're only a couple weeks away from that magical time of year when millions of Americans will flood the U.S. Postal Service with cards carrying forth heartfelt expressions of love, and wishes for a Merry Christmas.
However, it's a pretty safe bet that Bill Belichick will not be sending such a card to Adam Thielen.
About halfway through the fourth quarter of Sunday's game between the Vikings and the Patriots, Minnesota converted a fourth-and-one as they were driving to erase New England's two touchdown lead. After the Vikings Latavius Murray picked up the first down, New England's Patrick Chung went down as if he was injured.
That "injury" allowed the Patriots time to review whether Murray had actually gained the necessary yard for the first down. After seeing the replay, Belichick threw the challenge flag. After throwing the challenge flag, Adam Thielen let Bill Belichick have it.
"That's bullsh*t!" the Vikings receiver shouted at the future Hall of Fame coach.
Belichick then retaliated in the only way you would expect him to, by telling Thielen to "shut the f*ck up:"
Bill Belichick and Adam Thielen get into a shouting match during #MINvsNE pic.twitter.com/jL70vF175D

— Kevin Boilard (@247KevinBoilard) December 2, 2018
"I just thought the play was cheap," Thielen said after the game, according to Tom Curran of NBC Sports Boston, via Pro Football Talk. "I wasn't directing it toward him. I just thought the play was cheap. I let my emotions get the best of me, because it's a smart football play. If you are in that situation, why not? It's not cheating, because there's no rule against from a guy going down. I don't know if he was hurt or not. He might have been hurt. That's fine. It is what it is. Just interesting timing for a guy to go down when it's a close play."
In a twist, Belichick found himself in Thielen's position earlier in the year when he used colorful language to suggest the Dolphins had faked an injury against his team:
What's that Bill?! #Patriots 😂 pic.twitter.com/j5wb6R83Ue

— Will D. (@WAD1980) September 30, 2018
The Vikings won the challenge, but the Patriots won the game, 24-10.
Follow Dylan Gwinn on Twitter @themightygwinn
http://feedproxy.google.com/~r/breitbart/~3/x3YQY87uxXU/