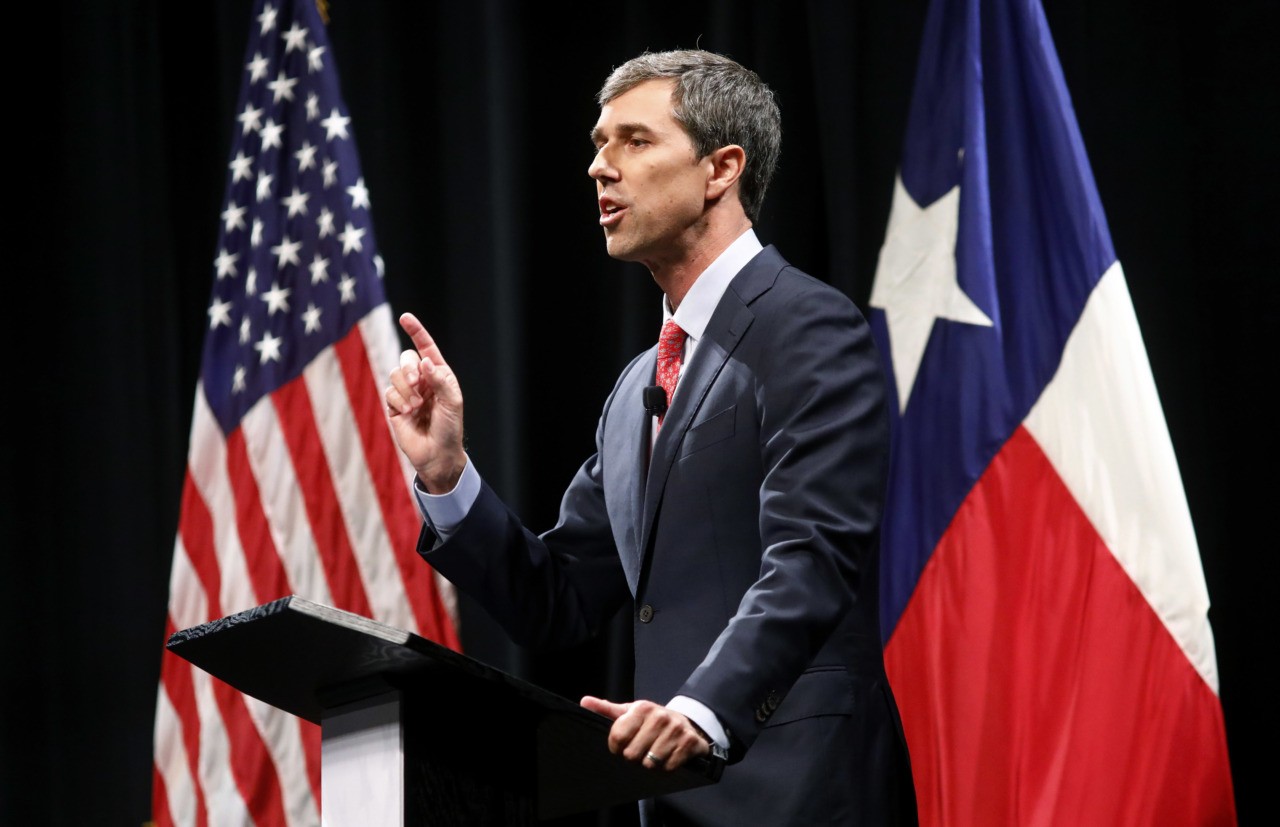 When Texas Democratic nominee for U.S. Senate Rep. Robert "Beto" O'Rourke (D-TX), was questioned over his own ordeal with the criminal justice system, a drunk driving arrest in 1998, at his debate with Sen. Ted Cruz (R-TX) Friday, he took the opportunity to address his "privilege" as a "white man in this country."
"I can only tell you that I was able to have a second chance in my life, was able to start a small business with good friends in El Paso, was able to meet [my wife] Amy on a blind date before Tinder," O'Rourke responded when moderators asked about his DWI charge, which was dismissed after he completed a court-ordered drunk driving program.
"I've made the most that I could with my second chance and my opportunity," he continued, noting, "What I do know is that as a white man in this country, there is a privilege that I enjoy that many African-American men and women do not."
"They do not have that second chance, they're forced to check that box on an employment application form that makes it harder for them to get a job," he said of black Americans. "They're ineligible for the Pell Grants that would allow them to attend SMU or TCU or institution in this area. And their choices are narrowed, their options are constrained in their lives."
"White privilege," the concept that, in purportedly racist societies like the United States, white people's "whiteness" inherently imparts them with unearned advantages to the detriment of non-whites, was once the near exclusive domain of campus leftist politics. Leftist movements on campus have long encouraged white students and faculty to "check their privilege," that is to approach situations prepared to acknowledge that they are unfairly advantaged, especially when interacting with non-white peers. In the last few years, however, the rhetoric, often invoked to explain all variety of social ills, has made its way rapidly into the left-wing of Democratic politics. On Friday, O'Rourke, as a purported mainstream Democratic nominee, introduced it to a U.S. Senate debate in a traditionally Republican-leaning state.
In addition to allowing him to appreciate his white privilege, O'Rourke pointed to his drunk driving arrest as helping him appreciate the need for "criminal justice reform." He said:
Everyone deserves a second chance, and if my experience can contribute to an understanding that allows me to work with Republicans and Democrats alike on real and meaningful criminal justice reform to ensure that everyone is able to live to their full potential and no one's mistake defines them for the rest of their lives. That would be something good — something good in whatever meaningful way it is — that has come out of that terrible decision on my part.
O'Rourke's petty criminal record has been a significant campaign issue, especially after a police report emerged this month showing a witness to his 1998 arrest claimed he tried to flee the scene of the accident he caused. O'Rouke has frequently addressed the DWI arrest since entering politics in 2005, but that detail was not widely known. O'Rourke was also arrested in 1995 on a misdemeanor criminal trespass charge on the University of Texas at El Paso campus.
http://feedproxy.google.com/~r/breitbart/~3/BFrHDn0nfGI/