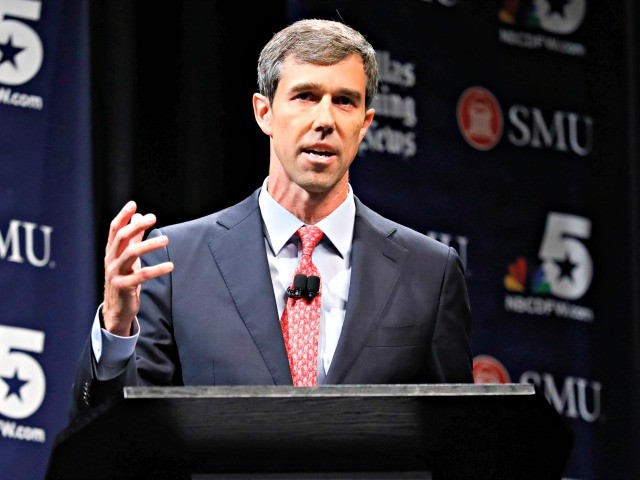 Rep. Beto O'Rourke (D-TX) says amnesty for all of the estimated 12 million illegal aliens living in the United States is necessary in order to fill jobs at cotton gins and other blue-collar industries.
During a debate on Friday night in Dallas, Texas, O'Rourke said he supported amnesty for all illegal aliens in the U.S. because they are needed to take jobs that Americans allegedly aren't willing to do. O'Rourke said:
There are millions of people in this country who are working the toughest jobs. And we were in Roscoe at a cotton gin with 24 jobs, every single one of them, worked by someone who came to this country. Not a person born in Roscoe, or born in Sweetwater, willing to do that work. That's a story of Texas and of this country. We need to bring people out of the shadows, allow them to get right by law. And yes, there should be an earned path to citizenship.
What Beto said about the 200,000 Dreamers contributing to Texas communities: pic.twitter.com/9bKMvLuGr1

— Beto O'Rourke (@BetoORourke) September 21, 2018
O'Rourke made similar comments this week, telling a black American frustrated with illegal immigration that illegal aliens were needed in order to keep cotton gins open, as Breitbart News reported:
I also went to the cotton gin in Roscoe. And at that cotton gin, there are 24 jobs and the manager of that gin says it does not matter the wages that I pay or the number of hours that we set … no one born in Roscoe … or Texas or this country who is willing to work. But there are immigrants who are coming from Central America or Mexico or other parts of the world to Roscoe to work these jobs and to help build our economy. [Emphasis added]
O'Rourke said the 3.5 million DACA-enrolled and eligible illegal aliens — those protected by former President Obama's executive amnesty — needed "freeing" from deportation.
"There is no better people than those of us here in this state … to rewrite our immigration laws in our own image," O'Rourke said. "And to ensure that we begin by freeing DREAMers from the fear of deportation by making them U.S. citizens, so they can contribute to their full potential to the success, not just of themselves and their families, but to this country."
O'Rourke's assertion that Americans are unwilling to work is not backed up by data collected and analyzed by the Center for Immigration Studies.
Researcher Steven Camarota has found that of the more than 460 American occupations he analyzed, only four were dominated by foreign-born workers. Those four occupations accounted for less than one percent of the total U.S. workforce.
For blue-collar American workers, mass immigration has not only kept wages down, but in many cases decreased wages, as Breitbart News reported. Meanwhile, the U.S. continues importing more foreign nationals against whom working-class Americans are forced to compete. In 2016, the U.S. brought in about 1.8 million mostly low-skilled immigrants.
http://feedproxy.google.com/~r/breitbart/~3/a_mzFqi7dr0/