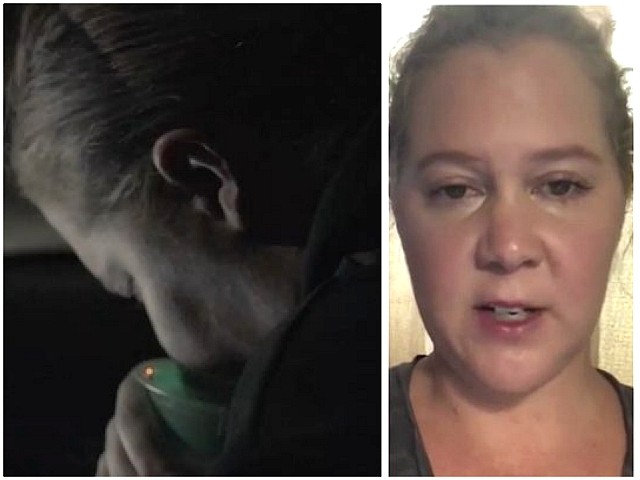 Actress and left-wing activist Amy Schumer shared a video of herself vomiting on social media Tuesday, captioning the video by saying that Republican Senator Cindy Hyde-Smith had a "crackhead" mouth with "tiny racist teeth."
"Turn sound off if you have a weak stomach," a pregnant Amy Schumer warns her followers in an Instagram caption to a video of herself vomiting in a car on the way to a stand-up show.
"I love doing stand-up more than anything and I hate cancelling shows. I have to postpone some until I feel human again. But i will make up these dates and we will have a great time. I'm so proud of my stand up right now and can't wait to share it," she said.
The 37-year-old then used her pregnancy to get political.
"I'm so grateful and excited to be a mom. I'm grateful I have access to healthcare, as we all should have. But I guess what I'm really saying is Fuck Hyde-Smith and anyone who voted for her."
The I Feel Pretty star continued, "My feelings on her are best expressed by the above video. And I don't usually agree with speaking ill of crackheads, but she has a crackhead looking mouth. Tiny racist teeth. Also the MLB commissioner donated the max he could to her confederate ass campaign and that was after her crack mouth said she would attend a public hanging."
Hyde-Smith's Mississippi Senate runoff election was riddled with accusations of racism after she made a strange joke about attending a "public hanging" while running in a state that had a history of lynchings. However, she was ultimately victorious, defeating Democrat Mike Espy Tuesday night by double digits.
Schumer announced her pregnancy by calling for her fans to vote for Democrats in October. In November, the comedian again used her pregnancy for politics, saying that getting pregnant was "all the more reason" to protest Justice Brett Kavanaugh.
http://feedproxy.google.com/~r/breitbart/~3/K1ijYLhoicU/