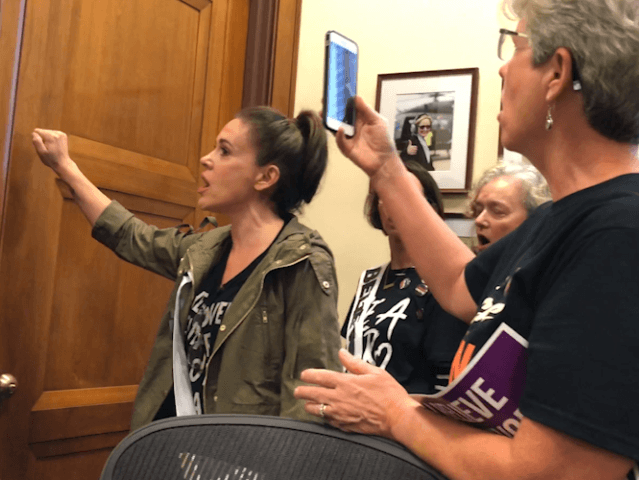 Actress Alyssa Milano and other activists demanded that staffers of Senator Cindy Hyde-Smith (R-MS) "open the door!" to "hear the stories!" on Capitol Hill on Wednesday.
The "#Womentowomen" protesters aim to "talk women to women" with female Republican senators about their opposition to President Donald Trump's Supreme Court Justice nominee Judge Brett Kavanaugh and to share their stories of sexual assault.
"[Hyde-Smith's staff] seemed to be smirking and on their phones and they then just went back into their office and closed the door," one protester can be heard saying, upset that staffers locked themselves into a separate part of their office. "And the gentleman who said he was going to find out just sort of snuck in and grabbed something and left."
Watch Full-Length Video:
According to the senator's office, however, the decision to move the staffers was made due to the disruption caused by the protesters.
"Protestors filled the front office, chanting and disturbing the operations of staff managing the front desks. The Chief of Staff simply moved the staff assistants to an office where they could continue to answer phones undisturbed," Hyde-Smith's office wrote in an email to Breitbart News.
"The front office was left open with Capitol Police and Senior Staff monitoring. The protestors chanted their piece and left. Senator Hyde-Smith enjoys hearing from her constituents and their wide variety of their opinions. The Senator, however, does not look fondly on protesters who disrupt her constituents and the office operations."
We are talking #WomenToWomen. Sharing our stories with Senators about why we need them to #VoteNo #KavaNO https://t.co/2q02Af6xIX

— Alyssa Milano (@Alyssa_Milano) September 26, 2018
Time we talk woman to woman. Women, survivors & allies will be showing up to the offices of Senate Republican women to share our stories.

I will be there. Will you join me?

Ernst
Collins
Murkowski
Hyde-Smith
Fischer
Capito #BelieveWomen #CancelKavanaugh #WomanToWoman pic.twitter.com/GyWjajUZet

— Alyssa Milano (@Alyssa_Milano) September 25, 2018
Breitbart News' Matthew Perdie contributed to this article.
Amanda House is Breitbart News' Deputy Political Editor. You can follow her on Twitter at @AmandaLeeHouse and Instagram. 
http://feedproxy.google.com/~r/breitbart/~3/PmywWgxn410/