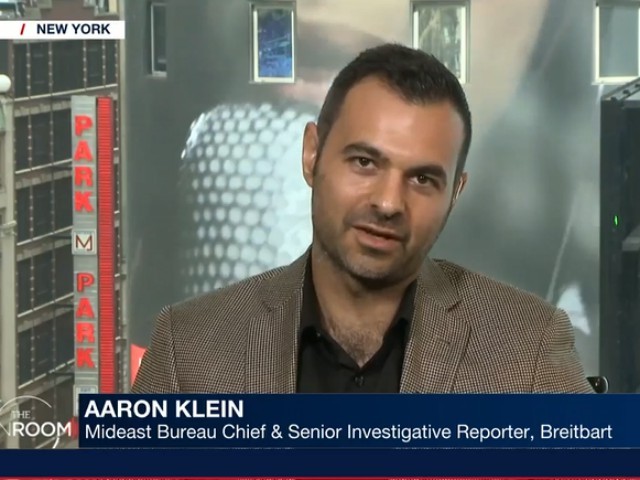 Iran may be influencing the Hamas terrorist organization to "light things up" in Gaza to deflect Israeli military attention away from countering the ongoing Iranian military presence in Syria, Breitbart Jerusalem chief Aaron Klein contended.
Klein made the comments (video above) during a panel discussion on Israel's i24NEWS.
Speaking on the news network's Spin Room program, hosted by Ami Kaufman, Klein stated:
I think Hamas is very nervous right now about the economic situation in the Gaza Strip. You've got Qatar pouring in fuel bypassing Hamas, bypassing the Palestinian Authority. And Hamas has to turn the anger of the Palestinian population again somebody and so they are trying to turn it against Israel.

And by the way I am also wondering if Iran is sort of hijacking what is going on in the Gaza Strip as well because they are very nervous right now in Syria. And it looks like they might be telling Hamas to light things up in Gaza.
Klein was speaking following a week of escalated attacks against Israel emanating from the Gaza Strip, including ramped up violent border riots, an increase in the number of incendiary devices being launched into Israel, the planting of an explosive device at the Israeli border fence, and the firing of two rockets toward central Israel. One rocket landed on an Israeli home in Beersheba, a city of 200,000, while a second rocket reportedly hit near the Tel Aviv area but fell into the sea.
Klein criticized the Israeli government for its willingness to continue negotiating a truce with Hamas while Israeli cities come under fire.
"The tit for tat has to stop here, though," he said, referring to the Israeli military's limited response. "Israel is feeding into this by even continuing to negotiate while on the other hand Hamas is leading a war against it."
He called for the Israel Defense Forces to "reestablish deterrence" and "smash Hamas."
http://feedproxy.google.com/~r/breitbart/~3/6msXgGuuVFg/