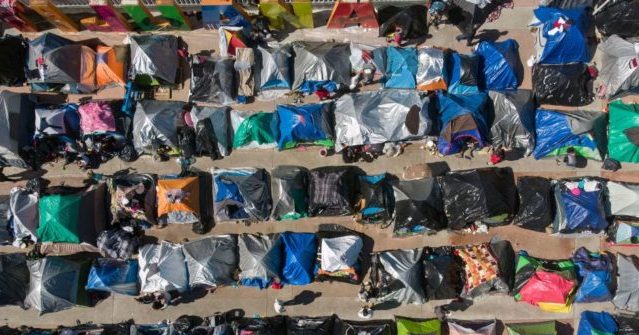 Migrant arrivals at President Joe Biden's mostly open border spiked to 171,000 in March, more than double the February arrivals, according to a leaked Friday report to the Washington Post.
The Post report said:
More than 171,000 migrants were taken into custody along the U.S. southern border in March, the highest monthly total since 2006, according to preliminary U.S. Customs and Border Protection data reviewed by the Washington Post.

The extraordinary increase — up from 78,442 in January — underscores the magnitude of the challenge facing the Biden administration, especially as it races to add emergency shelter capacity for an unprecedented number of teenagers and children crossing without their parents.

Last month CBP took in more than 18,800 unaccompanied minors, a 99 percent increase from February and a figure far above the previous one-month high of 11,861 in May 2019. The increase in the number of migrants arriving as part of family groups was even steeper last month, soaring to more than 53,000, up from 19,246 in February and 7,294 in January, the preliminary figures show.
The massive migration of job-seeking migrant workers, consumers, and renters has been triggered by Biden's policy of welcoming many migrants. For example, Biden's deputies worked to demolish multiple measures that were built by President Donald Trump to protect Americans' blue collar jobs, wages, and communities.
"Every action that they've taken has suggested that 'If you come and if you get here, you will find a way to find work and find opportunity and be able to stay here forever,'" former Secretary of State Mike Pompeo said in a March 24 interview with the Texas Public Policy Foundation. Pompeo added:
When that's the case, [migrants] are not going to listen to American messaging. They're going to listen to the text message or the WhatsApp, or the email or the phone call they have with their cousin or their family member or their friend who's here and says, "Come, take the risk, it's worth the try."
Media reports say border agents now expect two million arrivals at the border by October 1 — including perhaps one million job-seeking adults.
Biden's border chief is Alejandro Mayorkas, the pro-migration secretary of the Department of Homeland Security.
An April 1 Washington Post report described how Biden's welcome combines with failed governments in Central America to drive many poor migrants into U.S. jobs and housing.
"With increasingly easy access to human smugglers and the loans to pay them, many here [in Guatemala] now weigh the risks of migration against a worsening standard of living," the Washington Post article says:
Even the country's poorest people can secure the means of migration — albeit through predatory lenders and often exploitative smuggling networks. Many have friends or relatives who have made the trip successfully, sending WhatsApp messages touting their new jobs.

In the country's highlands, large homes paid for by those already in the United States — what some scholars call "remittance architecture" — are daily reminders of the upside of migration. But they've also created a new dynamic in rural Guatemala, where a growing divide has emerged between those mired in poverty and malnutrition and those, sometimes living just yards away, who have entered a kind of middle-class life through American wages.

"They say you get a job within two days to a week," [Juan] Hernandez said. "Some work in the fields, others in construction."
The Central American governments are ineffective and weak because U.S. governments have worked with U.S. employers for decades to extract huge numbers of young men and women out of the countries. The federal extraction-migration policy muffles any local protests against the failed governments.
Biden's open-border is good for employers and investors, who gain from a flood of cheap, compliant labor. But three-out-of-five Americans disapprove of President Joe Biden's handling of the migration crisis at the southern border, according to an Ipsos poll for ABC.
The poll asked: "Do you approve or disapprove of the way Joe Biden is handling … The situation with migrants and unaccompanied children showing up at the US-Mexico border." Fifty-seven percent disapproved, and just 41 percent approved, in the March 26-27 poll of 517 people.
For many years, a wide variety of pollsters have shown deep and broad American opposition to legal migration, labor migration, and the inflow of temporary contract workers into jobs sought by young U.S. graduates.
The multiracial, cross-sex, non-racist, class-based, intra-Democrat, and solidarity-themed opposition to labor migration coexists with generally favorable personal feelings toward legal immigrants and toward immigration in theory — despite the media magnification of many skewed polls and articles still pushing the 1950s corporate "Nation of Immigrants" claim.
The deep public opposition is built on the widespread recognition that migration moves money from employees to employers, from families to investors, from young to old, from children to their parents, from homebuyers to real estate investors, and from the central states to the coastal states.
A YouGov poll shows many swing voters – & a large slice of Biden's 2020 voters – blame him for the migration rush.
The numbers should get more unfavorable as Biden's deputies usher many more poor migrants into Americans' job sites and housing markets. https://t.co/lK85E067US

— Neil Munro (@NeilMunroDC) March 30, 2021
http://feedproxy.google.com/~r/breitbart/~3/E2C6GvYqH9w/