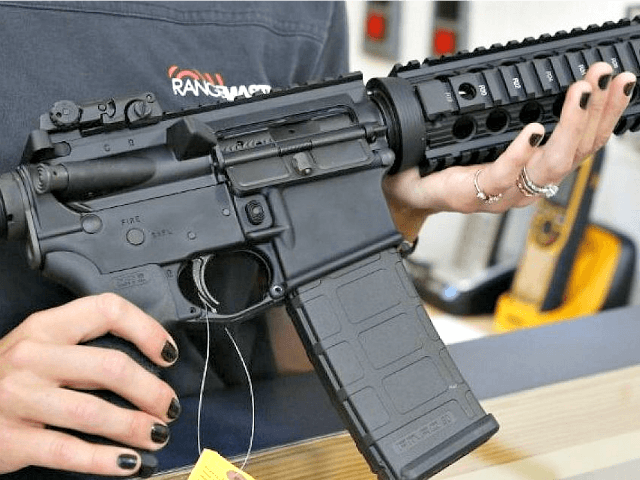 Washington State ballot initiative I-1639 contains a linguistic twist equating all semiautomatic rifles with "assault rifles."
Ballotpedia quotes I-1639's text, noting that the initiative is focused on "semiautomatic assault rifles."
The framers of the initiative define a "semiautomatic assault rifle" as "any rifle which utilizes a portion of the energy of a firing cartridge to extract the fired cartridge case and chamber the next round, and which requires a separate pull of the trigger to fire each cartridge."
In other words, semiautomatic rifles in general are the same as "semiautomatic assault rifles" in particular.
This means passage of the initiative would put in place enhanced background checks for the purchase of semiautomatic rifles, would place a ten-day wait on completion of a semiautomatic rifle sale, and would require purchasers to pass a gun safety course.
Additionally, I-1639 would institute gun storage requirements for all firearms, be they semiautomatic, pump action, bolt action, or single shot. The storage requirements portend felony charges for gun owners whose guns are stolen and used in a crime or accessed by unauthorized people and used for mischief.
AWR Hawkins is an award-winning Second Amendment columnist for Breitbart News, the host of the Breitbart podcast Bullets with AWR Hawkins, and the writer/curator of Down Range with AWR Hawkins, a weekly newsletter focused on all things Second Amendment, also for Breitbart News. He is the political analyst for Armed American Radio. Follow him on Twitter: @AWRHawkins. Reach him directly at awrhawkins@breitbart.com. Sign up to get Down Range at breitbart.com/downrange.
http://feedproxy.google.com/~r/breitbart/~3/k5Tyu0659bA/