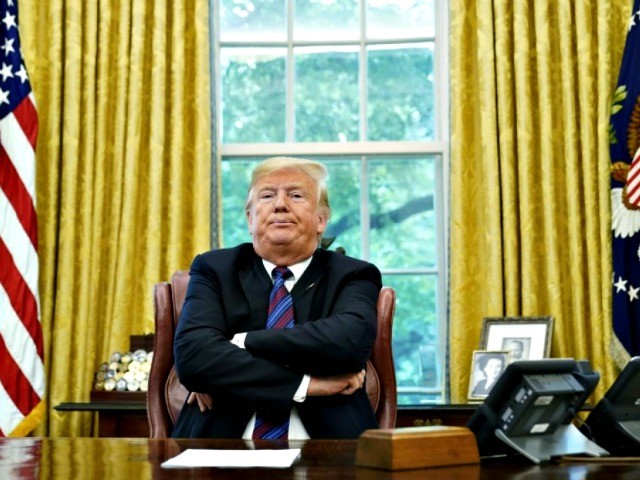 A contributing editor for the Washington Post admits that free trade was the "biggest 2018 midterm loser" in the elections across the country this month.
Washington Post contributor and avid free trader Daniel Drezner writes that if the midterm elections were an indicator for President Trump's re-election bid and the 2020 election, it's that there will likely not be "many fans of trade liberalization" in the key states needed for the president and GOP to win.
Drezner writes:
Rust Belt Democrats and Republicans will have one thing in common, and that is comfort with higher levels of trade protectionism. Consider Sen. Sherrod Brown (D-Ohio), who romped to reelection despite the state trending Republican in the past few cycles. As the Hill's Alexander Bolton notes, this will raise Brown's profile for the next few years: "Brown's strength in Ohio and his appeal to Rust Belt voters could make him a tempting vice presidential pick in 2020. He has been an outspoken critic of steel dumping in the United States and has pushed hard to protect pension plans for retired coal miners." [Emphasis added]

It was not all bad news for free traders. The GOP did not do well at all in House races in Iowa, and one has to think that the trade wars had a negative effect on their fortunes there. Still, the industrial Midwest remains rich with contestable electoral college votes, which means both parties are likely to cater to the region's most protectionist sentiments. [Emphasis added]
Drezner says that in the next two years, while the Democrats control the House, trade protectionism and more tariffs could be one of the key policy compromises between Trump and the left wing.
As Breitbart News has noted, there is little support among the American electorate for the free trade apparatus preferred by the economic libertarian billionaire Koch brothers, Silicon Valley's tech elites, and House Speaker Paul Ryan.
Free trade between the U.S. and China has eliminated jobs for Americans in all 50 states and every congressional district, researchers with the Economic Policy Institute (EPI) have revealed. This amounts to the loss of about 3.4 million U.S. jobs.
The vast majority of those jobs lost from free trade with China has been in the U.S. manufacturing sector, making up 74.4 percent of all jobs lost and amounting to 2.5 million U.S. manufacturing jobs lost. This total of jobs lost also includes the 1.3 million American jobs lost since 2008.
Meanwhile, there have been about 11,100 U.S. jobs created, as of August 2018, due to Trump's protective tariffs on steel and aluminum imports as well as billions of dollars worth of tariffs on Chinese imports. There are 20 times as many American jobs that have been created in the last six months thanks to Trump's tariffs on imported foreign goods than jobs that have been lost.
http://feedproxy.google.com/~r/breitbart/~3/8y0hXs933ls/