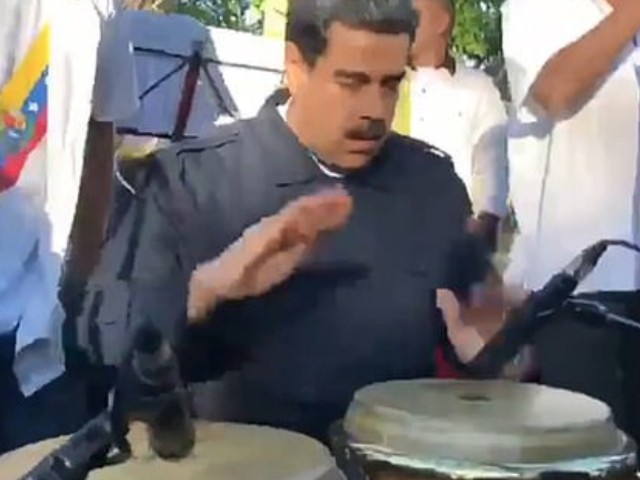 Venezuelan dictator Nicolás Maduro – close to marking three weeks out of power since President Juan Guaidó took office on January 23 – played a conga solo in a salsa performance this weekend that appeared in a state propaganda video circulating on social media. This was a far cry from the image of a diligent wartime leader he has attempted to cultivate to the outside world.
The video, in which Maduro appears wearing what is rapidly becoming a signature teal shirt, surfaced on the Twitter and Facebook accounts of Cuban journalist Yusnaby Pérez, who regularly shares highlights from socialist propaganda networks in Venezuela and Cuba. The band performing gives Maduro center stage to display his percussion skills:
Venezuela's state television outlet VTV featured an initiative Saturday by the socialist government to organize tropical music concerts throughout the Venezuela-Colombian border, titled "We Are Brothers," led by pro-regime musician Omar Enrique, whom VTV claims Colombia has banned from performing pro-Maduro propaganda songs in the country. Enrique, in his statement announcing the initiative, claimed that his "only sin is being friends with President Nicolás Maduro" and that he hopes to soon perform in Colombia. Regarding the concerts, Minister of Culture Ernesto Villegas accused Colombia of "fascism" for rejecting Enrique.
Nicolás Maduro has for years attempted to use salsa music, a tropical dance genre native to the Caribbean region, to elevate his personal clout with the Venezuelan people. He is the host of a state-run radio program titled Salsa Time and has regularly appeared on television dancing or playing percussion with salsa bands. Last week, Maduro celebrated a government initiative on Twitter called "Salsa Heart," the purpose of which was to use dancing and musical instrument classes to distract youth from protesting the nation's near-complete lack of medicine and food.
Shortly after President Guaidó invoked the Constitution to remove Maduro for holding fraudulent elections, Maduro appeared on television dancing salsa with wife Cilia Flores and stated on Twitter, "WE ARE INDESTRUCTIBLE! They cannot take away the joy of living, enjoying, struggling [fighting] and working."
While the salsa incidents were intentional, not all of Maduro's embarrassing public appearances in the past month have been so. This weekend, during a speech in which he intended to compare the government of the United States to mid-twentieth century Latin American socialist dictators from the presidential palace, Miraflores, the building suffered a power outage – a common occurrence for most Venezuelans, but rarely a problem for those at the time. Maduro was shouting the name of Chilean military leader Augusto Pinochet, comparing him to President Donald Trump, when the lights began to flicker, prompting some mockery online by National Security Adviser John Bolton:
The lights are going off on the Maduro mafia in Venezuela… https://t.co/SU9QONDY8E

— John Bolton (@AmbJohnBolton) February 9, 2019
Maduro began this week with a much more aggressive push against the United States. On Sunday, he announced large-scale military exercises intended to protect against a U.S. invasion he has repeatedly claimed is soon to occur, citing the delivery of food and medical aid to the Venezuelan border with Colombia. While Maduro is no longer president of Venezuela, he retains the loyalty of the highest ranks of the nation's military, who blocked the bridge connecting the two countries last week with boxcars and gasoline trailers to prevent much-needed American food deliveries from entering Venezuela.
"Nobody is going to enter Venezuela, not even a single invading soldier. We do not fear the threats of the American empire," Maduro announced after the arrival of food from America. "We tell Donald Trump as a people of peace that we do not fear him at all. Trump's statement is criminal and threatening, very regrettable that the Venezuelan right applauds him with a gringo flag. "
This week, Maduro announced the preparation of troops to deploy and attack the alleged American invaders hiding in shipments of food and medicine.
"Don't let Donald Trump threaten us," Maduro said in a speech on Sunday. "Get out of Venezuela Donald Trump, out with your threats, here we have armed forces and here there is a people to defend the honor, dignity, and decorum of a nation that has struggled for over 200 years."
Maduro declared that all of Venezuela was "impenetrable" to U.S. forces, thanks to the nation's air force and army troops.
Maduro's troops will likely not face off with American soldiers, as the Trump administration has repeatedly emphasized that, while a last-resort military option is on the table, Washington has no intention of using military force to help bring aid to the Venezuelan people. The aid currently stuck in Colombia is part of a $20 million package of food and medicine sent in response to President Guaidó's plea to neighboring Western Hemisphere countries to send humanitarian aid to the country, clashing with Maduro's long-term refusal to accept that a humanitarian crisis exists in the country. While the aid remains in Colombia, Americans are helping distribute some of the food and medications to Venezuelan refugees who made it to the other side of the border.
"U.S. assistance includes support for Venezuelans in 17 countries in the region, including Brazil, Colombia, Costa Rica, Ecuador, Guyana, Mexico, Panama, Peru, and Trinidad and Tobago," according to a State Department press release issued last week. "In particular, the United States funds United Nations agencies and non-governmental organizations to provide life-saving assistance, such as food, health care, protection, and shelter, to Venezuelans and host communities in the region."
Follow Frances Martel on Facebook and Twitter.
http://feedproxy.google.com/~r/breitbart/~3/kfExenvARNk/