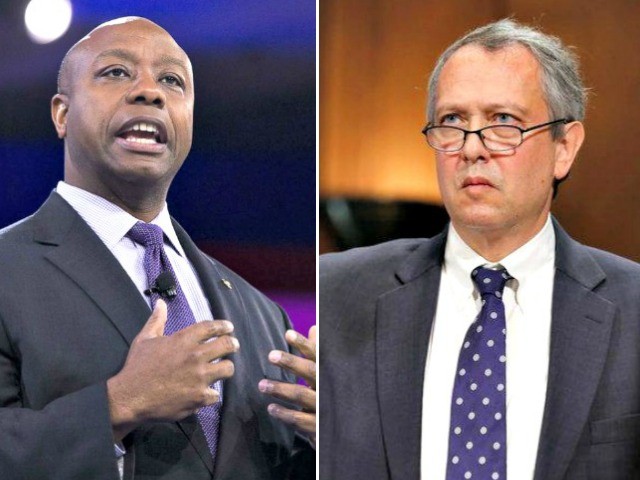 Sen. Tim Scott (R-SC) made a mistake recently when he announced that he wouldn't vote to confirm Tom Farr for a federal district court slot in North Carolina.
This was after Scott voted in favor of cloture for Farr, which advanced his nomination to the floor for an actual vote, in a 50-50 tie that had to be broken by Vice President Mike Pence. The actual vote on the confirmation has not yet been scheduled, but Scott should reconsider his decision.
It's clear that Scott has been deceived by the slanderous, false charges being made against Farr by activist, left-wing lawyers who want to stop his confirmation. In a statement announcing his opposition, Scott said it was due to Farr's involvement in a "controversial postcard campaign" by the 1990 Jesse Helms senate campaign, and an internal 1991 Department of Justice memorandum that described what happened and recommended a lawsuit against the Helms campaign for violating the Voting Rights Act.
The facts, however, do not show that at all. As Farr accurately told the Senate Judiciary Committee, he had no involvement in the controversial postcard campaign.
The June 19, 1991 DOJ memorandum was about postcards sent to voters in predominantly minority areas just prior to the 1990 election. The postcards misinformed voters that if they had recently moved, they had to have lived in the precinct where they were now voting for at least 30 days prior to the election and they would have to tell poll workers when they checked in how long they had resided in the precinct.
The DOJ memo recommended that a lawsuit be filed against the Helms campaign as well as several other individual defendants that the memo said were responsible for these postcards. Tom Farr was not one of the individuals named.
In fact, a footnote on page 12 of the memo that Sen. Scott referred to specifically says that "Farr did not play an active role in the 1990 Helms campaign." You have to wonder if Sen. Scott's staff members pointed that out to their boss. Doubtful.
Farr did attend a meeting at the Helms campaign in October 1990 in which a ballot security program was discussed. Farr advised the Helms campaign that they should have "observers to watch the opening and closing of the polls." But there is nothing untoward, illegal, or remotely discriminatory about setting up such a ballot security program.
In fact, candidates of all parties – including Democrats – set up such programs every election and appoint poll watchers to observe the election process, as they are allowed to under the laws of every state, including that of North Carolina. Didn't Sen. Scott have poll watchers in his last campaign?
According to the DOJ memo on pages 13-14, there was discussion of sending a mailing to registered voters who no long lived at their registered address. But the exact content of the mailing – which is what got the Helms campaign in trouble – was not discussed at all. Sending out postcards to voters is not illegal as long as they accurately summarize state law on a change of residence.
According to the memo, Farr told the attendees at the meeting that there was no need for a card mailing in 1990 as had been done in the 1984 Helms campaign because of changes in state law. Such a mailing, he said, "would not be particularly useful."
Who approved the mailing of these postcards? Carter Wrenn, who managed the 1990 Helms campaign. Those are the facts.
Wrenn confirmed in a 2017 letter to Sen. Thom Tillis (R-NC) that he approved the sending of these postcards, not Tom Farr. Wrenn says that Farr was not contacted about the actual post cards and the improper language they contained until after Wrenn received a complaint from the Justice Department.
"Up until that time, Tom [Farr] hadn't seen the card that had been mailed, did not know it had been mailed, or know who it was mailed to," Wrenn says. He adds that "the actual postcard that was mailed could not have been discussed [at the October meeting] because it did not exist at the time of the meetings."
Facts are stubborn things.
After the Helms campaign was contacted by the Justice Department, Farr was brought in as a lawyer to help secure a consent decree to settle the Justice Department's lawsuit against the Helms campaign. The campaign agreed to not conduct such a ballot security program in the future unless it was first pre-cleared by the Justice Department.
The 1991 DOJ memo clears Farr, as does the testimony of the former manager of the Helms campaign. Wrenn would have every incentive to try to shift the blame for this embarrassing mistake to someone else. Instead, Wrenn has acknowledged that this was his "mistake" and that Tom Farr had nothing to do with it.
So who are these false allegations coming from? According to at least one report by the North Carolina Journal, "many of the incendiary allegations came from Gerald Hebert, a former Justice Department official."
This is the same Gerald Hebert who made similar racially charged accusations against Jeff Sessions when he was nominated to be a federal district court judge, just like Tom Farr. Hebert falsely claimed that Sessions, when he was a U.S. Attorney, blocked an FBI investigation into a voting rights case. Hebert had to recant his testimony when he admitted it was a different U.S. attorney, Sessions' predecessor, who tried to stop the FBI probe.
This is also the same Gerald Hebert who, when he worked for the Justice Department, was responsible for a case in which a court awarded almost $90,000 in costs and attorneys' fees against the Justice Department. The court said there was "no basis" for the racial discrimination claims being made; they were "unfounded accusations." That would have been quickly revealed by "a properly conducted investigation," and the court hoped that it would "not again be faced with reviewing a case as carelessly instigated as this one."
The racism claims against Tom Farr have been just as "carelessly instigated." Giving them credence is not only unfair to Tom Farr, but to the cause of justice by denying confirmation to a highly qualified nominee, a nominee who was given a "well qualified" rating by the American Bar Association, its highest rating.
Scott has fallen for a ploy by left-wing provocateurs, including former Justice Department lawyers, who are really angry about something completely unconnected to the 1990 Helms campaign: Farr's work as a lawyer hired by the North Carolina legislature to defend its voter ID law as well as its redistricting plan in court.
They just can't forgive Farr for doing what he is supposed to do as a lawyer – represent his client to the best of his ability.
Now that the facts are known, Sen. Scott has the opportunity to do the right thing – revisit his incorrect decision and vote to confirm Farr.
Hans von Spakovsky is a senior legal fellow at The Heritage Foundation and the former counsel to the assistant attorney general for civil rights at the U.S. Justice Department.
http://feedproxy.google.com/~r/breitbart/~3/xKRX61p3Qh8/