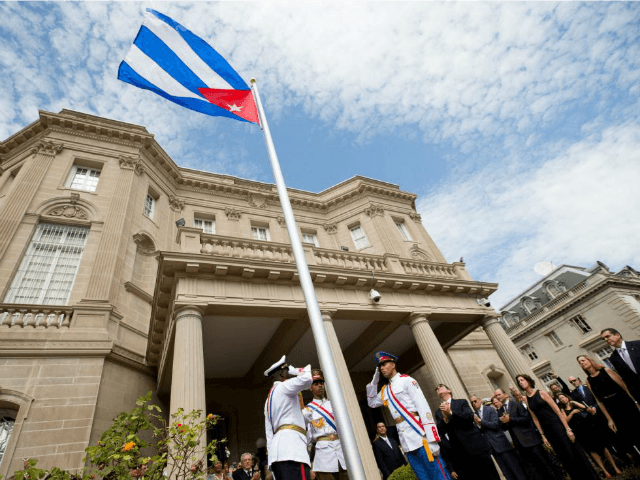 The only personally identified victim of unexplained attacks on U.S. and Canadian diplomats is recovering from severe brain injury, her mother told NBC News on Tuesday, just days after unnamed Canadian diplomats condemned their government for "abandoning" them in Cuba as their condition worsened.
Catherine Werner, an American diplomat diagnosed with an unexplained brain injury she received in Guangzhou, China, linked to the similar illnesses or injuries confirmed in over two dozen Americans working in Cuba cannot go back to work despite returning to the United States for treatment. According to mother Laura Hughes, who suffered similar symptoms after spending time in her daughter's Guangzhou apartment, Werner was diagnosed with "vision, balance and hearing problems along with an organic brain injury."
Hughes told NBC News that she and her daughter heard loud, strange noises in the apartment and repeatedly saw evidence in the house that someone had broken in. The strange sounds, which diplomats in Havana also identified after being diagnosed, are what led researchers to initially refer to the attacks as "sonic" in nature, though various theories exist on what has happened to the victim.
"We heard a very high-pitched sound in Catherine's bedroom. And we heard a very low, pulsing sound in the living room," Hughes told NBC. "Our heads would pulse. You would feel like you would want to regurgitate. You could become instantly paralyzed, instantaneously fatigued."
Hughes noted that, in addition to the illness she and her daughter felt, Werner's two dogs also suffered. The dogs, adopted after Werner repeatedly found evidence of burglary, would sometimes appear to have locked themselves in rooms they were not in when the apartment was left empty and would vomit blood when exposed to the strange sounds.
"You vomit. You get sick. You feel so sick," Hughes explained. "Your head is splitting. You're dizzy. It's a horrible feeling. It's indescribable."
Hughes described Werner as a "shell of what she was" after prolonged exposure to whatever was hurting her. She added what has become a familiar complaint from those affected: the U.S. State Department appeared to do little to help, she said.
"I do not believe that our military, our diplomats around the world or here at home are safe … instead of being helped by the State Department, it's an atrocity how they're taking care of this," she protested.
The Chinese government has offered very little response to the attacks publicly. The State Department told NBC News that it "continues to provide our employees with access to the best medical facilities and doctors in the United States."
Werner's is the only "confirmed" case in the country, though others have come forward complaining of having suffered a similar set of incidents. Mark Lenzi, a worker at the Guangzhou consulate, said in a July interview that he had heard similar loud noises and suffered dizziness, nausea, and other "concussion-like" symptoms. The State Department reportedly evacuated nine individuals from China and provided medical care to another 250 who feared exposure to the same attacks.
Hughes, Werner, and the diplomats attacked in Cuba are all being treated by experts in Philadelphia, where the most advanced studies on the situation are being conducted.
The Philadelphia team published a study in February definitively concluding that the 26 individuals suffering adverse health effects, including brain injury, in Cuba could not have induced these injuries through stress or psychological factors in any way. The study, published in the Journal of the American Medical Association (JAMA), stated that a "novel mechanism" had caused the injuries, without being able to elaborate.
The Cuban communist regime maintains that the true nature of the illnesses is psychological and political. A "report" broadcast on Cuban state television last year concluded that the Americans injured had heard cricket and cicada noises and failed to identify them as insects, instead responding with paranoia. Cuba's Foreign Minister referred to the attacks as "science fiction."
Unlike the U.S. State Department, the Canadian government did not forcibly evacuate any of its diplomats from Cuba and has not confronted the Cuban government about the situation. An estimated dozen Canadian diplomats and family members suffered nearly identical symptoms to those of the Americans. Speaking anonymously to the Globe and Mail, those affected said they were disappointed by their government's lack of action in their defense.
"We all love our jobs. We want to represent our country, and we know there is hardship involved in doing that, we know there is a price to pay," one diplomat told the newspaper. "But we did not expect to be abandoned, or more precisely, sacrificed – that's how we're feeling now."
Another suggested that Canada would never defend them against Cuba because "of Canada's bid for a U.N. Security Council seat."
The diplomats told the Globe and Mail that the only reason they figured out what was happening to them was a private conversation with one of the affected Americans, also unnamed, who warned, "You know we're being evacuated. This is not right and you should know this, because our governments are not telling us, you need to know."
Two of the Canadian diplomats said they further suspected when two of their children suffered "violent nosebleeds on the same night at roughly the same time."
The Canadians further complain that their government initially blocked them from traveling to Philadelphia to have the medical team there compare their symptoms to the Americans'. After months of bureaucratic roadblocks, some eventually did make it to the United States, where doctors diagnosed them with the same malady as their American peers.
The Canadian injuries complicate the theory that the Americans were victims of a coordinated political attack. The Cuban government has long engaged in illegal and unethical activities against Americans, in some cases murdering American citizens, but Ottawa and Havana have a long and friendly history. Late mass murderer Fidel Castro served as an honorary pallbearer in the funeral of former Prime Minister Pierre Trudeau, father of current Prime Minister Justin Trudeau, and thousands of Canadians flock to Cuba's beaches a year. Publicly, neither the American nor Canadian government have offered an explanation that would also account for the injury in China.
Follow Frances Martel on Facebook and Twitter.
http://feedproxy.google.com/~r/breitbart/~3/RsjK1lb9ysI/