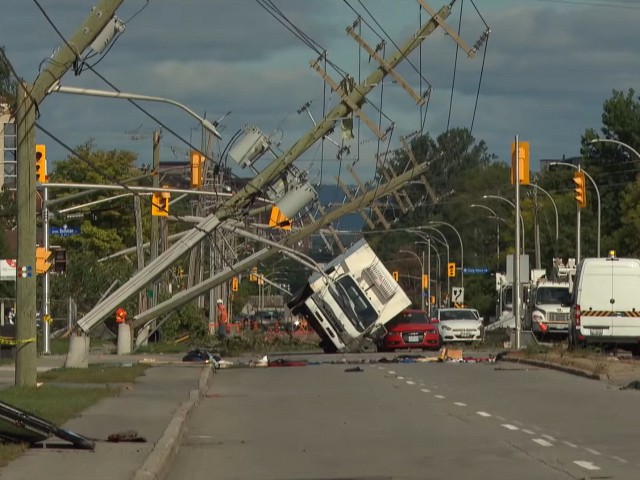 Tens of thousands of people in Ottawa and Hull, Canada, are without electricity after two tornadoes hit the nation's capital Friday evening.
By Sunday, local energy authorities said 70,000 customers are still affected by power outages. They shared drone footage of the tornado-wrought destruction via Twitter in recent days:
Work continues at the Merivale station in collaboration with @HydroOne. No ETR at this time. We know it's difficult to be w/o power. We thank you for your patience as crews continue to work around the clock to restore power as quickly & safely as possible. #Ottnews #Ottcity pic.twitter.com/srD0dWZGjH

— Hydro Ottawa (@hydroottawa) September 23, 2018
We sincerely wish we could provide restoration times for all of you. As soon as we know, we will post. Ottawa's electricity grid has not sustained such extensive damage since the Ice Storm of 1998. Our crews will continue to work around the clock. Scene at Greenbank today: pic.twitter.com/84q58zTnwz

— Hydro Ottawa (@hydroottawa) September 22, 2018
The Merivale Transformer Station supplies power to a large portion of Nepean and Barrhaven and other parts of Ottawa. The damage is catastrophic and will take days to rebuild. Please know that we are looking at innovative ways to reroute power to customers. #OttawaOutage #Ottnews pic.twitter.com/ydiqEHsa5i

— Hydro Ottawa (@hydroottawa) September 22, 2018
Drone footage from Dunrobin area. #Ottnews #Ottcity #OttawaOutage pic.twitter.com/0ocrOGwSp8

— Hydro Ottawa (@hydroottawa) September 22, 2018
While no deaths were reported as a result of the twin tornadoes, there were several injuries.
Various residents shared photos and videos of the events and their aftermath.
CTV reported the rescue of a dog trapped under rubble by Good Samaritans:
A beagle named Charlie is found alive under the rubble. #dunrobin#ottnewspic.twitter.com/ncPUJxdbfx

— Matt Day (@mattdaymedia) September 21, 2018
The Ottawa Citizen linked the Ottawa-Hull tornadoes to "climate change" in an article titled, "An Inconvenient Ottawa? What will climate change actually mean for the nation's capital?" — an indirect reference to Al Gore's film, An Inconvenient Truth.
Follow Robert Kraychik on Twitter.
http://feedproxy.google.com/~r/breitbart/~3/zrVzf7Oj2WE/