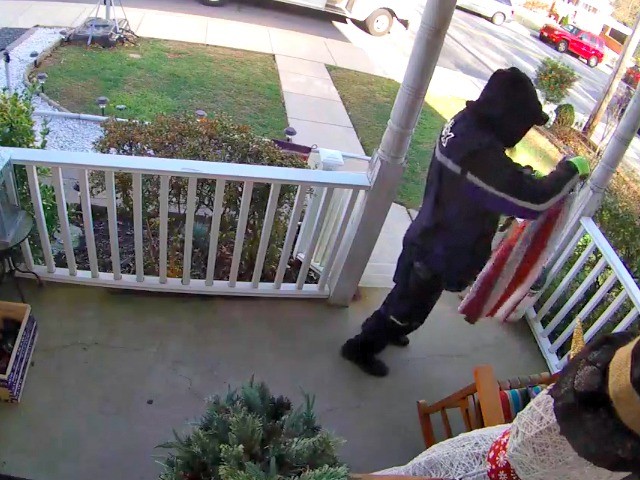 A Marine Corps veteran working as a FedEx delivery man in Maryland went above and beyond his duties as a delivery driver on Wednesday when he stopped to fold an American flag which fell to the ground due to heavy winds.
A video of the heartwarming encounter from a homeowner's security camera showed the FedEx delivery driver wearing a hooded jacket making his way toward the home's front lawn before picking up the fallen American flag, which dropped to the ground after heavy winds knocked over the flagpole on the lawn.
But the driver went the extra mile to care for the fallen flag when he took the flag off its pole, walked up to the porch, and folded the flag into a triangular shape before leaving it on the porch.
The homeowner, Gail Cook, was very pleased once she saw the security footage.
"Thanks FedEx!!! I hope he gets the recognition he deserves, I can't thank him enough!" homeowner Gail Cook wrote in a Facebook post, which had been shared more than 200 times.
Cook's story went viral, capturing the attention of Mike King, the Marine behind the random act of kindness.
"It's the Marine way, would have done better justice for Lady glory if the wind wasn't gusting at 50 lol. You and Eric are welcome I couldn't just drive by and do nothing," King wrote in the comments on Cook's post.
The Marine Corps veteran had been delivering packages to the Cook family's doorstep for years, but his actions touched Cook.
"He did this not knowing anyone was watching — he just did it because it's the right thing to do," Cook told the Baltimore Sun. "And we just really appreciate that he took the time to do that for us."
King also received high praise from a FedEx representative who "commended" him for his "patriotic actions."
"FedEx Ground is proud of the many contributions our team members and vendors make to our local communities every day," a FedEx representative said. "We commend the patriotic actions of Mike King, a service provider employee who went above and beyond to properly care for a fallen American flag while on his route."
http://feedproxy.google.com/~r/breitbart/~3/88efX0Sh_LM/