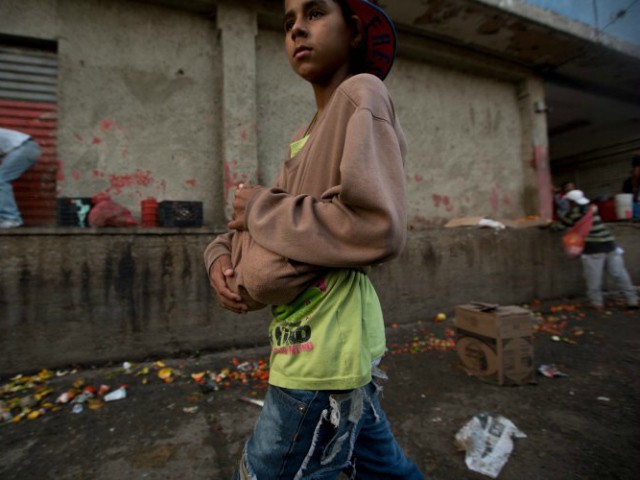 Venezuelans captive to the state propaganda that has become the only viewing option on television captured a segment making social media rounds Thursday featuring children singing a song called "Yanqui Go Home," insulting starving Venezuelan refugees and telling them to "go to your mother's c*nt and see if shit goes better there for you."
The clip appears to have aired on Wednesday night on the socialist broadcast Con el Mazo Dando ("Hitting with the Mallet"). It is hosted by Diosdado Cabello, a high-ranking member of the United Socialist Party of Venezuela (PSUV) widely considered to be the head of the Cartel de los Soles, a transcontinental cocaine trafficking operation run by the Venezuelan military.
(Warning: strong language in Spanish):
According to a report Thursday in El Nacional, the preeminent opposition newspaper in the country, a children's chorus called "Patria Nueva" ("New Nation") appeared on the television program Wednesday night to present their rendition of a new propaganda song called "Yanqui Go Home." The members of the chorus range between 10 and 15 years of age.
The children first repeatedly sing "No to the Yanqui terrorist!" and "Yanqui go home!" before singing lyrics dedicated to insulting the millions of Venezuelan refugees who have fled the country as a result of severe food and medical shortages and political repression.
The children make an obscene hand gesture that appears to be scratching their behind and sing, among other lyrics:
You are like the Mona Lisa with your bitter face/and I have a huge smile

They say the country is bad/that New York is better

Go back to your mother's c*nt/see if shit goes better there for you

Go to Miami Beach/to Europe, Washington
Con el Mazo Dando is one of Venezuelan state television's most outlandish propaganda productions. On multiple occasions this week, it featured videos depicting Organization of American States (OAS) chief Luis Almagro in a Nazi uniform and describing him as an "assassin" and "murderer" for speaking up for the human rights of Venezuelans. Almagro pled with the world community this week to prevent Venezuela from "becoming Rwanda," referencing the high number of people killed in Venezuela by violent crime, lack of medicine, lack of food, and other critical government deficiencies. The show as also given the Nazi treatment to conservative President Iván Duque of Colombia and the head of Colombia's conservative Democratic Center party, Álvaro Uribe for speaking out about the thousands of Venezuelan refugees flooding Colombia's border.
Another regular target of the wrath of Cabello's television program is American Senator Marco Rubio (R-FL), who was branded a "psychopath" by the program this week for condemning Turkish chef Nusret Gökçe (known popularly as "Salt Bae") for serving dictator Nicolás Maduro.
The Venezuelan regime has prominently used children in their propaganda broadcasts over many years to signify the purportedly socialist future of the country. As far back as 2012, late dictator Hugo Chávez featured young children wearing military uniforms and holding military grade firearms, threatening capitalist societies. State television has also broadcast choirs singing Christmas carols rewritten to praise dictator Maduro and the impoverishing socialist system.
Venezuela's economy has been in a state of near-collapse for years, since Maduro took power. This week, he attempted to keep his regime afloat a little longer by announcing that the communist government of China, which he visited a week ago, would give Venezuela a $5 billion loan in exchange for one million barrels of crude oil to start. Beijing, which had for years warned investors to stay away from the Venezuelan economy, proclaimed in its state media that its presence in the country was growing and would continue to do so, intimidating the United States. Maduro, meanwhile, praised China and touted the nation's One Belt, One Road (OBOR) global infrastructure program on television, urging other Latin American states to allow China to invest heavily and take control of their economies.
http://feedproxy.google.com/~r/breitbart/~3/TrM57KAdqrA/