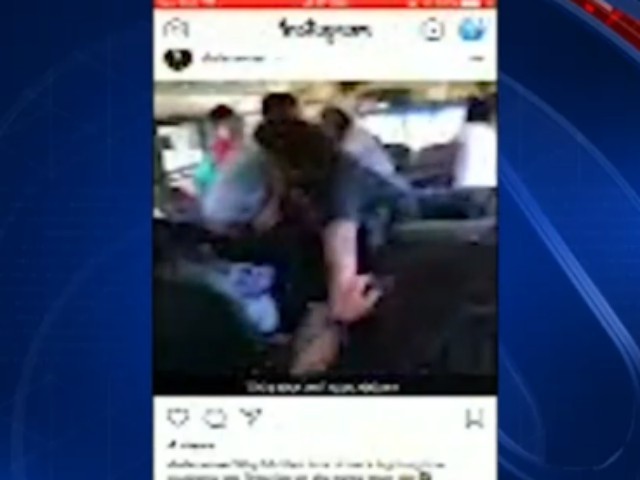 Two Georgia high school students are facing charges after they allegedly attacked a Georgia school bus driver on Friday, according to several viral videos posted on Instagram.
Authorities charged one teenage girl Friday with aggravated assault and carrying a weapon on campus, and then arrested her on Monday for trespassing because she returned to her high school without permission.
The other teenage girl involved also faces the same charges, but remains at large, investigators said.
Dekalb County School Superintendent Dr. Steven Green told Fox 5 Atlanta the two teenage girls attacked the school bus driver from behind Friday afternoon after the driver asked a student to sit down.
One of the Instagram videos shows a woman in a black shirt identified as the bus driver shoving one of the students off of her and hitting her while the student sprayed mace in the driver's face.
"We need to be very clear here. Attacking or assaulting our employees is never tolerated in school or on a bus off-campus. It was terrible to see students with mace and a knife," Dr. Green said.
"Our employees have an obligation to ensure their safety and the safety of other students. She was clearly attacked and that's just not acceptable," the superintendent added.
Authorities say the student had been removed from the bus before she hopped back on the bus, went to the driver seat, and stabbed the driver's right hand.
Several other Instagram videos show two to three students assisting the driver by pulling her attackers off of her.
"We commend those students for doing the right thing, but the real issue here is that parents need to have some serious conversations about how they react to situations and how they control their emotions because of lack of control and lead to very serious consequences," Green said Tuesday.
Student attacks on bus drivers are not uncommon. In 2015, a Dallas school bus driver was beaten by two middle school students.
http://feedproxy.google.com/~r/breitbart/~3/jylMX7BNpDg/