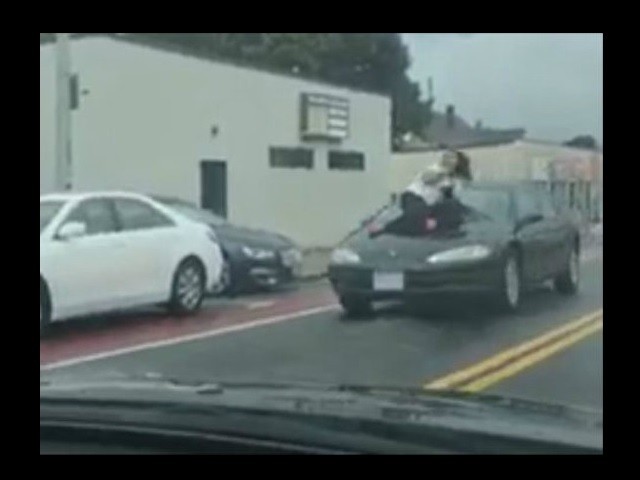 Shocking surveillance video shows two people holding on to a car's hood for dear life as it barreled down a busy street in Everett, Massachusetts.
Prosecutors say Jakyrah Pires, 21, hit a scooter carrying two riders from behind on Tuesday, knocking both passengers onto the roof of her car while witnesses looked on in shock, CBS Boston reported.
"The boyfriend was yelling on the street – he was crying. He was like 'oh my god, they took my girlfriend,'" said Nathan St. Fort Colin, a witness.
Witnesses say Pires continued to drive the vehicle with the two people clinging to her car through at least two traffic lights before the couple fell off.
Pires, through her attorney, said in a court appearance that she felt unsafe after the driver of the scooter started banging on her vehicle. Pires pleaded not guilty to multiple charges, including assault with a deadly weapon, leaving the scene of personal injury, and operating to endanger.
A judge ordered her to refrain from driving, and she is scheduled to appear for her next hearing in Malden District Court October 25.
The two people on the scooter walked away from the incident with minor injuries, including scratches and bruises.
This is not the first time an incident of road rage ended with a person clinging to the hood of a vehicle. In August, a man held on to the hood of a vehicle barreling down a Toronto highway after he and the suspect allegedly got into a road rage dispute over a lane change.
http://feedproxy.google.com/~r/breitbart/~3/WXdJs7H35rs/