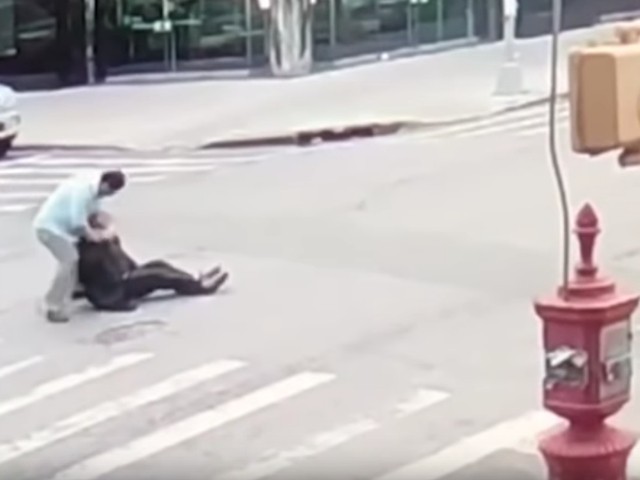 A man identified as Farrukh Afzal was charged with assault as a hate crime in connection with the beating of an Orthodox Jewish man in Brooklyn following an alleged road rage incident on Sunday.
I'm horrified by this unprovoked vicious assault on an elderly member of our community. Justice needs to be served swiftly and fully. Thank you @BPShomrim and @NYPD66Pct for the quick response. pic.twitter.com/ET9ReklotR

— Barry Spitzer (@bspitzer) October 14, 2018
The incident, captured by surveillance footage, allegedly shows Afzal repeatedly punching 62-year-old Lipa Schwartz at an intersection around 7:30 a.m. Eastern near the Borough Park neighborhood. The victim is seen holding a bag containing a prayer shawl and was reportedly walking to synagogue for prayer services when the beating occurred.
Further, the footage shows another elderly Orthodox Jewish man attempting to separate the two men before the man identified as Afzal chased him away. The NYPD says the man was also charged with harassment and criminal mischief.
Democrat State Assemblyman Dov Hikind condemned the attack in a statement released Sunday evening. "Watching the video of the incident or just hearing about it is traumatizing—especially to children and the elderly here, many of which survived the Holocaust," said Hikind. "This isn't the wild west—this is Borough Park. We won't allow violent, hateful behavior taking place on our streets."
"Schwartz told Hikind that the attacker spoke another language and the only words he understood were 'Allah' and 'Israel,' Hikind said. Schwartz and Hikind appeared at a news conference together, but Schwartz was more comfortable speaking Yiddish," according to NBC 4, which added, "Schwartz was taken to Maimonides Hospital in stable condition with cuts, pain and bruises to his head, police said."
The attack is one of 11 anti-Semitic assaults to occur in New York State in the past year, eight of which have taken place in Brooklyn, the Anti-Defamation League said.
http://feedproxy.google.com/~r/breitbart/~3/fkUYBh6uy-Y/