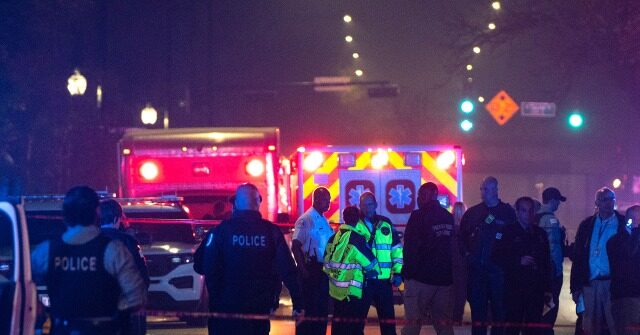 Incidents of teenage mobs engaging in violence have prompted one group to find an answer to the issue plaguing Chicago.
Community groups are trying to stop the "teen takeovers" that erupted over the weekend when massive crowds caused injuries, the shooting of two individuals, and property damage, Fox 32 reported Thursday.
Video footage shows the young people walking in the middle of the street and standing on top of cars:
"We need to give the Chicago Police Department the funding and the resources that they need to take care of this crime in our communities," Bill Morton, who is president of Rogers Park Chamber of Commerce, told reporters during a recent press conference.
Now, the organization known as "I'm Telling, Don't Shoot" is working with law enforcement to let parents know about such events. According to the group's founder, Early Walker, the initiative is similar to an Amber Alert.
He explained to reporters:
Everybody here probably has a phone in their pocket right now, so if you get a text right now, you are going to get the text and you are gonna say, "okay let me check, let me call my kids to make sure they are not there" and maybe even make sure if any of their friends might have been there but now they can call their friends and say, "hey such and such might be down here, you might want to check it out." It's trying to bring the community together to work together.
Anyone interested in the initiative can text "Chicago Kids" to 21000 for sign up information.
A mob of teens allegedly assaulted a couple during the rioting that happened in the Loop. The woman involved was reportedly cornered on North Wabash and pushed down, Breitbart News reported Tuesday.
White young woman and Black boyfriend who were randomly attacked in downtown Chicago speak out.
The attack was unprovoked!👇🏾 pic.twitter.com/9f6OIL6URf

— 🇺🇸 TheRealBroChris (@TheRealBroChris) April 18, 2023
Law enforcement officers are monitoring teen activity online as they brace for the weekend, Fox 32 reported Thursday:
Despite the chaos, Chicago Mayor-elect Brandon Johnson (D) said Sunday that the teens should not be "demonized" for how they acted, also noting he does not condone the "destructive activity."
"It is unacceptable and has no place in our city. However, it is not constructive to demonize youth who have otherwise been starved of opportunities in their own communities," Johnson stated.
https://www.breitbart.com/politics/2023/04/21/video-chicago-group-hopes-deter-teen-mobs-amber-alert-type-system/