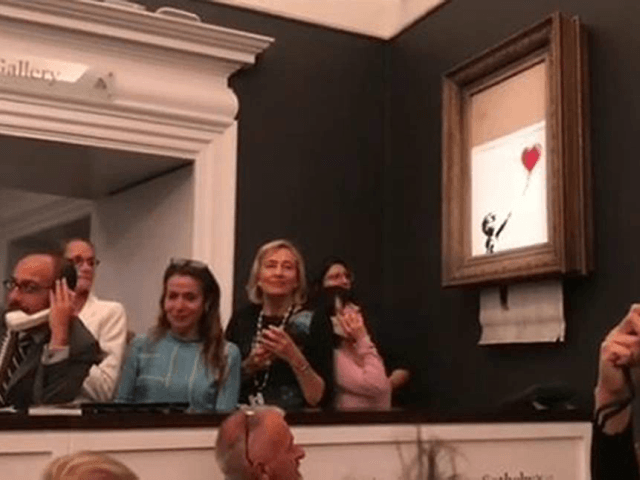 A Banksy print being sold at auction for $1.4 million self-destructed before auction-goers eyes Friday just after it sold.
A print of Banksy's spray-painted work "Girl With Balloon" had sold at Sotheby's in London for more than three times its initial estimate before the sale when an alarm activated a shredder hidden in the frame, causing half the canvas to shred into several strips.
A video shows auction-goers shocked at what they saw, with cell phones out as they saw the half-shredded painting being taken down to be given to the winning bidder.
The artist, Banksy, posted an Instagram photo of his shredded work and the shocked spectators with the caption, "Going, going, gone…":
The elusive artist also uploaded a now-deleted Instagram post showing him installing the shredder into the frame, according to the Daily Mail.
"A few years ago I secretly built a shredder into a painting in case it was ever put up for auction…," according to the post.
The auction house noted that the frame was a selling point for the work of art.
"It appears we just got Banksy-ed," said Alex Branczik, Sotheby's senior director and head of contemporary art in Europe, immediately after the painting shredded in front of auction-goers.
The auction house said it would be discussing next steps with the buyer over the coming days, but some experts say the stunt would cause the shredded work of art to increase in value.
"The auction result will only propel this further and given the media attention this stunt has received, the lucky buyer would see a great return on the £1.04million they paid last night," said Joey Syer, co-founder of MyArtBroker.
"This is now part of art history in its shredded state and we'd estimate Banksy has added at a minimum 50% increase to its value, possibly as high as being worth £2million plus," he added.
http://feedproxy.google.com/~r/breitbart/~3/XJz7E_cCG_I/