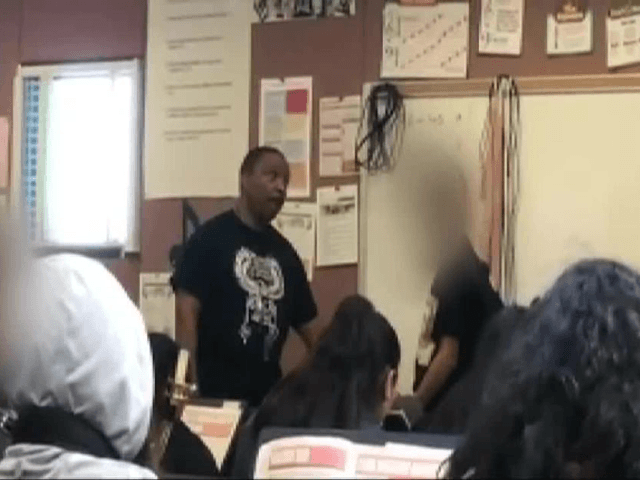 A high school band teacher was arrested Friday for allegedly brawling with a student during class, according to a video of the incident.
Authorities arrested Marston Riley, 64, on one count of child abuse and one count of causing great bodily injury on a child for allegedly punching a student during class at Maywood Academy High School in Maywood, California, KTLA reported.
The video showed Riley allegedly striking the student multiple times with what appeared to be a cellphone while shocked students watched.
The fight began when Riley told the student he was not following the school dress code and told the student to leave class, according to a student who witnessed the brawl.
The student, a junior at Maywood Academy, allegedly responded to the teacher's order by cursing, spewing racial slurs, and throwing a basketball in his direction, according to the video.
The situation escalated when the teacher allegedly threw a punch in the student's direction, setting off a brawl between Riley and the student. Some students and an adult in the room attempted to break up the fight.
"It was just back and forth, back and forth, and then the teacher just decided to throw a punch and that's when everything happened," the student said.
The student was transported to a local hospital, where he was treated for minor injuries.
CBS Los Angeles reported that Riley was taken into custody at the Los Angeles County Jail, where he was held on $50,000 bond before being released on bond.
Some students stuck up for Riley despite the charges against him.
"I had this teacher before and I had no problem with him," one student told KTLA. "He was a really nice teacher, I always respected him. He always had a really good relationship with every student."
The Los Angeles County Sheriff's Department said the investigation into the case was being transferred to the special victims' bureau.
The Los Angeles Unified School District told KABC they were cooperating with authorities, but could not comment further because it was a personnel matter.
Maywood Academy High School's principal said counselors would be available to the students on Monday in light of the incident.
http://feedproxy.google.com/~r/breitbart/~3/G3rpYGFgqTA/