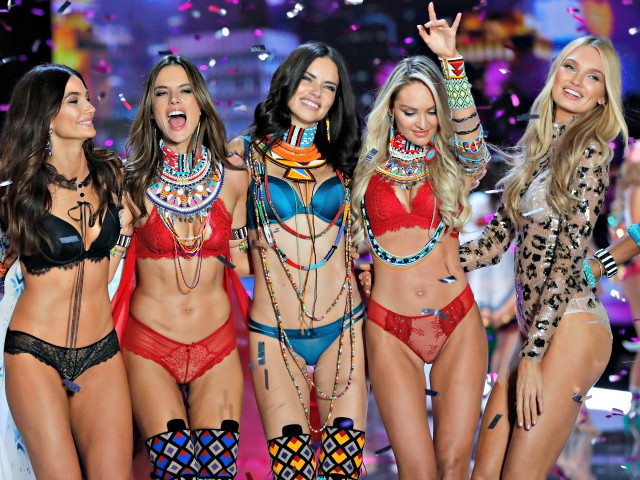 Victoria's Secret chief marketing officer Ed Razek apologized on Saturday for comments he made about not casting transgender contestants in the company's famed fashion shows.
In an interview with Vogue, Razek said that such a move would spoil the "fantasy" of the performance.
"It's like, why doesn't your show do this? Shouldn't you have transsexuals in the show? No. No, I don't think we should," Razek said. "Well, why not? Because the show is a fantasy. It's a 42-minute entertainment special. That's what it is.
"It is the only one of its kind in the world, and any other fashion brand in the world would take it in a minute, including the competitors that are carping at us," he continued. "And they carp at us because we're the leader. They don't talk about each other. I accept that. I actually respect it."
Razek's comments were criticized by social media users, including Australian trans model Andreja Pejic, many of whom accused him of transphobia.
"It's really sad when you see powerful people in our industry holding such backward views and being so comfortable in expressing them on a public platform," Pejic wrote on Instagram.
In response to the backlash, Razek apologized for his remarks, admitting that they were "insensitive."
"My remark regarding the inclusion of transgender models in the Victoria's Secret Fashion Show came across as insensitive. I apologize," Razek said in a statement. "To be clear, we absolutely would cast a transgender model for the show. We've had transgender models come to castings… And like many others, they didn't make it… But it was never about gender. I admire and respect their journey to embrace who they really are."
Please read this important message from Ed Razek, Chief Marketing Officer, L Brands (parent company of Victoria's Secret). pic.twitter.com/CW8BztmOaM

— Victoria's Secret (@VictoriasSecret) November 10, 2018
There has been a steep rise in transgender models in recent years, as fashion labels seek to prove their commitment to "diversity" and LGBTQ acceptance. However, the Victoria's Secret brand has so far resisted such moves, despite considerable lobbying efforts for them to do so.
The iconic lingerie company has been caught up on political controversy before. Last year, a group of their models were heavily criticized after they uploaded a video of themselves singing the N-word from Cardi B's hit song 'Bodak Yellow.' Months before, the label's annual "What Is Sexy" social media campaign was also met with accusations of racism over the lack of minority women featured in its material.
Follow Ben Kew on Facebook, Twitter at @ben_kew, or email him at bkew@breitbart.com.
http://feedproxy.google.com/~r/breitbart/~3/KwBZtS3zZ9A/