Verizon's 13 board members outsourced many jobs at many other companies before launching their joint campaign to outsource 44,000 Verizon jobs, including at least 2,500 computer jobs to low-wage Indian visa-workers.
The Verison computer jobs are being outsourced to Infosys, an Indian company accused of undercutting American workers and discriminating against black and white Americans in favor of Indian nationals. Breitbart News reported:
Verizon executives claim the computer outsourcing will only impact 1,000 Verizon workers, but employees who spoke to Breitbart News say that the outsourcing will hit 5,000 workers eventually, as 44,000 jobs are shed.
Verizon spokesperson Rich Young told Breitbart News in a Tuesday statement that he does not know "where these numbers are coming from," and called the estimate "nothing more than fake news."
On Oct. 3, the Wall Street Journal confirmed the 44,000 figure, adding "a spokesman for the company confirmed the scope":
Employees eligible for the severance packages were offered three weeks' pay for each year of service up to 60 weeks.

The same day the offer was announced, Verizon notified many information technology employees that they were being transferred to Indian outsourcing giant Infosys Ltd. INFY -2.24%▲ as part of a $700 million outsourcing agreement.

Verizon is transferring about 2,500 employees in the U.S. and overseas to Infosys. Those employees aren't eligible for severance payments and won't receive their 2018 bonus if they are offered a job at Infosys and don't accept it, according to materials given to the employees.
Verizon's outsourcing strategy relies heavily on the many Indian outsourcing companies and their armies of H-1B and L-1 visa-workers.
These Indian companies work with American CEOs to transfer college-graduate jobs to low-wage visa-workers in the United States and then gradually move those the jobs back into India. Few of the outsourced American college-graduates are hired by the Indian firms, either as employees or subcontractors.
Overall, the H-1B program keeps a population of roughly 700,000 lower-wage foreign college-graduates in U.S. jobs. The H-1B visas last three years, but can be extended indefinitely once a company requests a green card for the H-1B worker. Each year, roughly 120,000 new H-1B workers are imported for U.S. jobs, and roughly 55,000 get green-cards to stay in the United States.
The board members of Verizon also work for many other companies which have used the H-1B visa program, according to federal data collected by MyVisaJobs.com and H1Bfacts.com.
Verizon board member Gregory Weaver is the former chairman and CEO of Deloitte, which has asked for 23,000 foreign visa-workers to replace American business-school and technology graduates since 2015.
Roughly one-third of the H-1B visa requests are approved by the autopilot provisions of the H-1B law. But each visa lasts for three years, so a request for 3,000 visas likely delivers 1,000 H-1B foreign workers for three years.

The data also how many foreign workers are being allowed by their employer to file for green cards. For example, from 2015 to 2017, Deloitte asked for 22,432 H-1B workers and sponsored 966 foreign workers for green cards so they can stay in the United States.
Lowell McAdam is the chairman of Verizon. His CEO, Hans Vestberg, was born in Sweden, according to the company data:
Before joining Verizon in April 2017, Vestberg served for six years as president and CEO of Ericsson, a multinational networking and telecommunications equipment and services company headquartered in Sweden that provides 35 percent of the world's 2G, 3G and 4G mobile network infrastructures … Born in Hudiksvall, Sweden, Vestberg earned a Bachelor of Business Administration degree from the University of Uppsala, Sweden, in 1991.
According to MyVisaJobs.com, "Ericsson Inc. has filed 1797 labor condition applications for H1B visa and 583 labor certifications for green card from fiscal year 2015 to 2017."
In June 2018, Vestberg attended a meeting of elite CEOs and investors, while wearing a shirt carrying the slogan "No Nationality."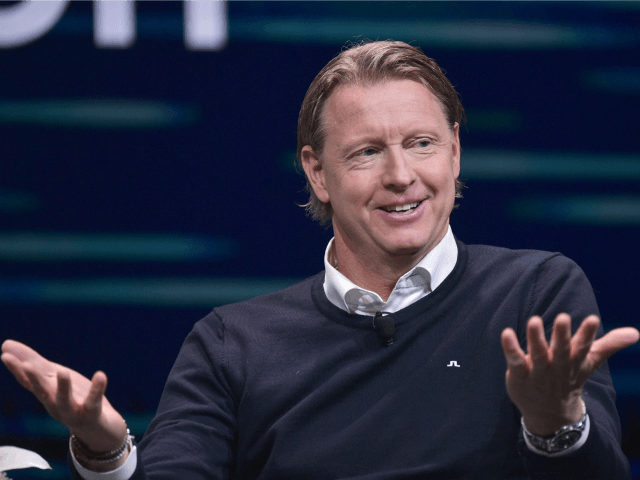 Board member Mark Bertolini is the chairman and CEO of Aetna Inc., which has already outsourced much work to Infosys, which is based in India.
Infosys reported:
Infosys has played a significant role in Aetna's journey, working alongside Aetna during the last couple of years. As a strategic partner to Aetna, Infosys provides a wide range of services ranging from business consulting, application development, validation and testing services, systems integration, program management, requirements management, architecture services, maintenance, enterprise solutions services, and business process outsourcing.
Infosys has been the largest user of U.S.-based H-1B workers, many of whom also transfer other college-graduate jobs back to India.
When they ask for H-1B visas, companies are required to state how much they will pay their visa-workers. But there are many allegations — and some evidence — that many H-1Bs are paid far less than the promised wages: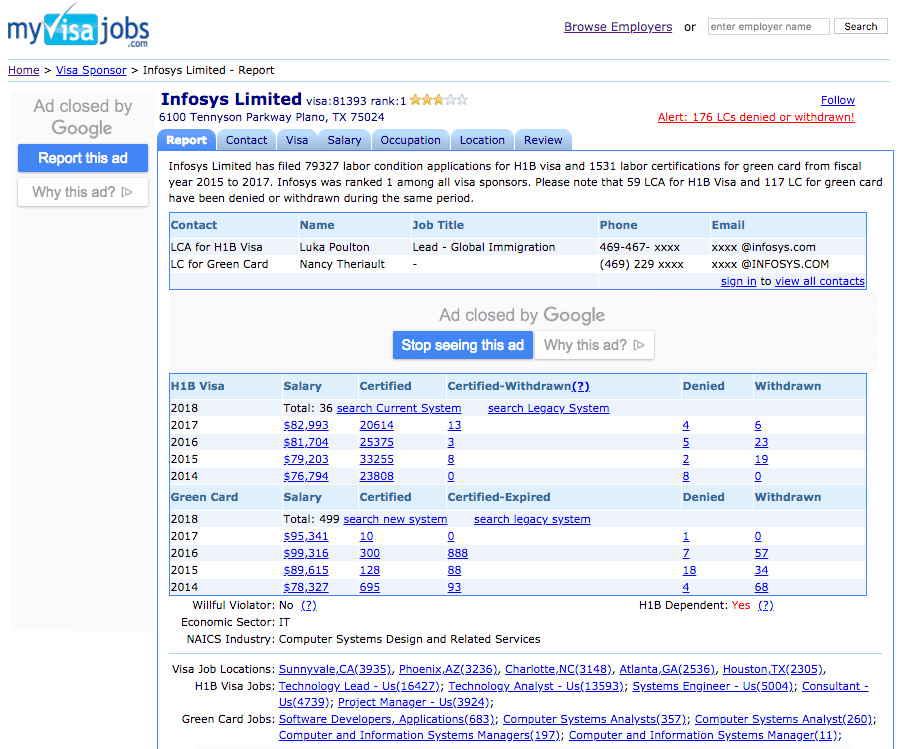 Board member Kathryn Tesija is a former Vice President at Target Corp., which has tried to replace Americans workers with almost 400 H-1B visa-workers since 2014.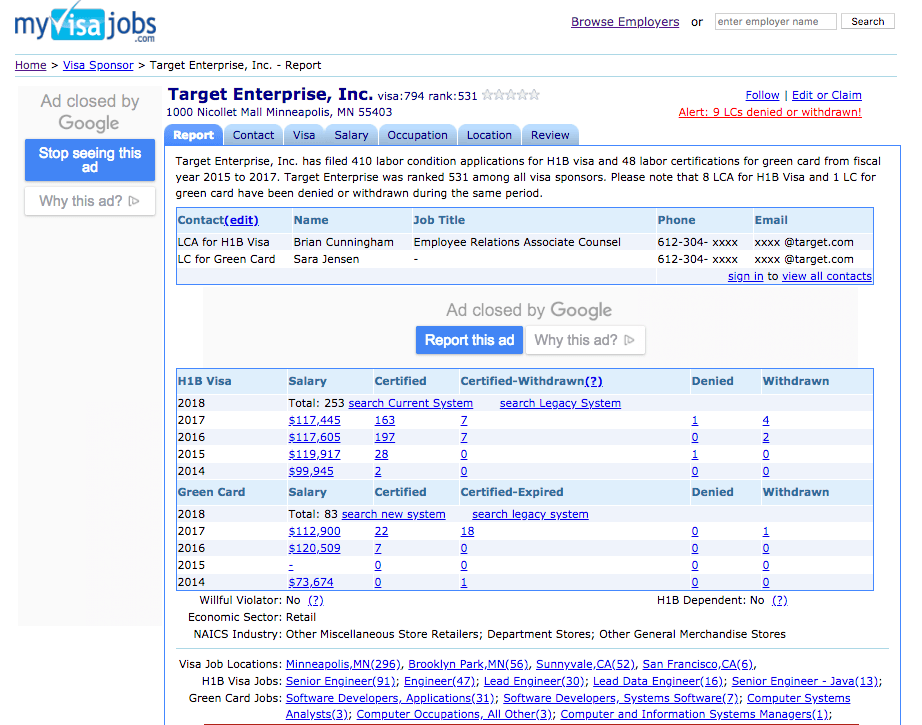 Board member Gregory Wasson is the former President and Chief Executive Officer of Walgreens Boots Alliance, Inc. That firm has tried to import 121 foreign graduates since 2014, including 74 pharmacists, according to MyVisaJobs.com: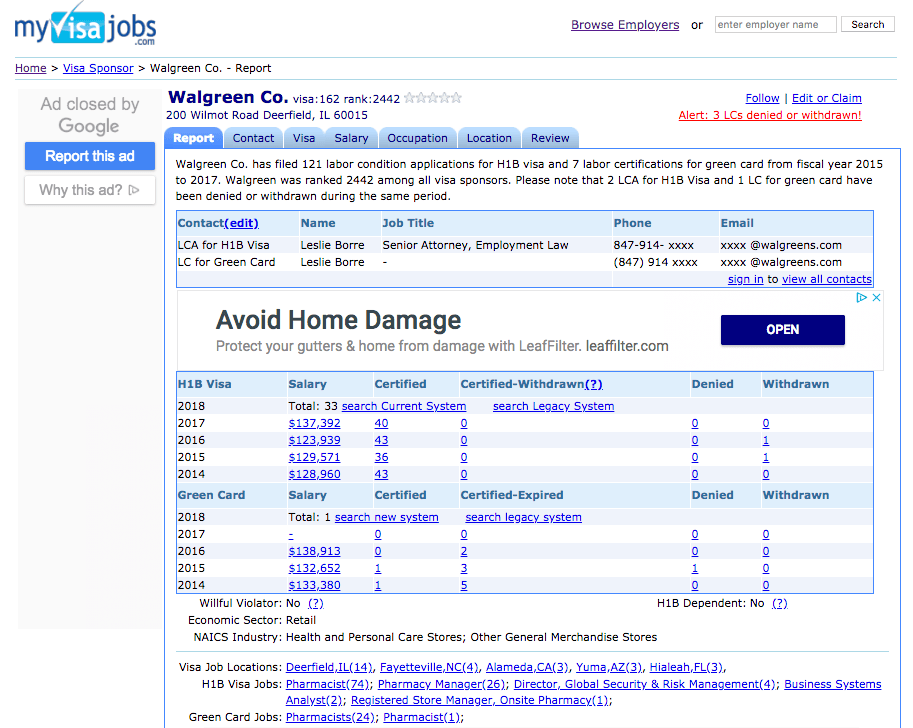 Board member Melanie Healey is a former group president of The Procter & Gamble Company. In 2003, the company transferred 1,850 company employees to an American outsourcing firm, Hewlett Packard. The company also outsourced more internal work to IBM and Accenture.
In turn, those three companies import many lower-cost H-1B visa-workers to do the outsourced work for many additional companies: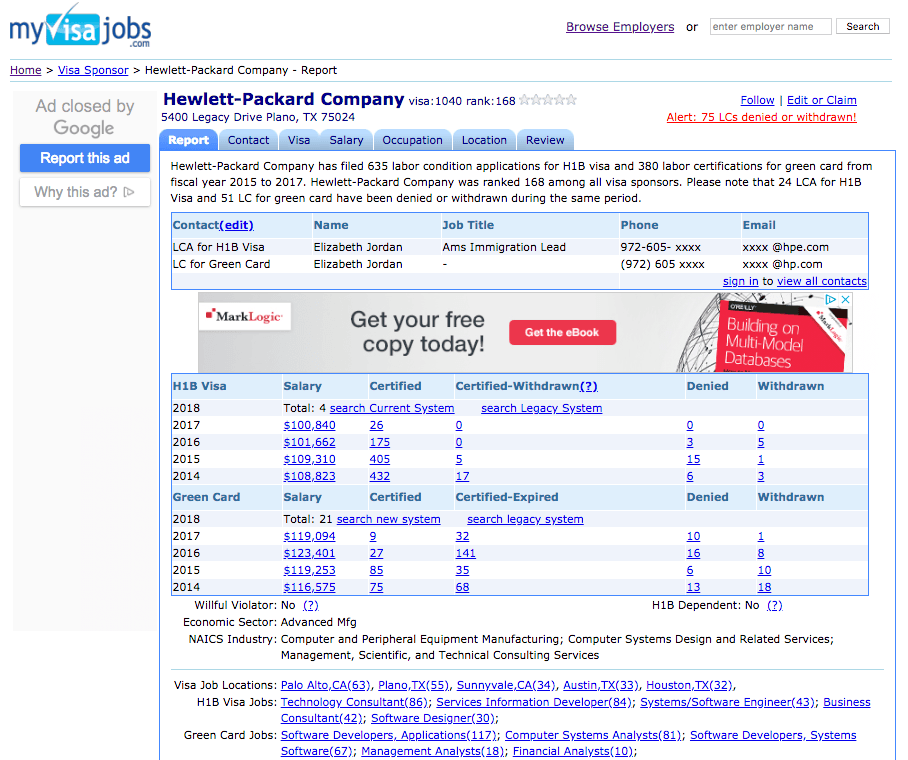 Verizon's board also includes three bankers whose investments rise as U.S.-based companies cut their payroll costs by transferring work to visa-workers or foreign graduates. Verizon's website
reports
:
Clarence Otis, Jr. Former Chairman and Chief Executive Officer of Darden Restaurants, Inc. … He has served as a director of The Travelers Companies, Inc. since August 2017 and VF Corporation since 2004.  He has also been a director of 138 funds within the

MFS Mutual Funds

complex since March 2017.
Verizon is already using several hundred foreign workers who were imported via the H-1B program: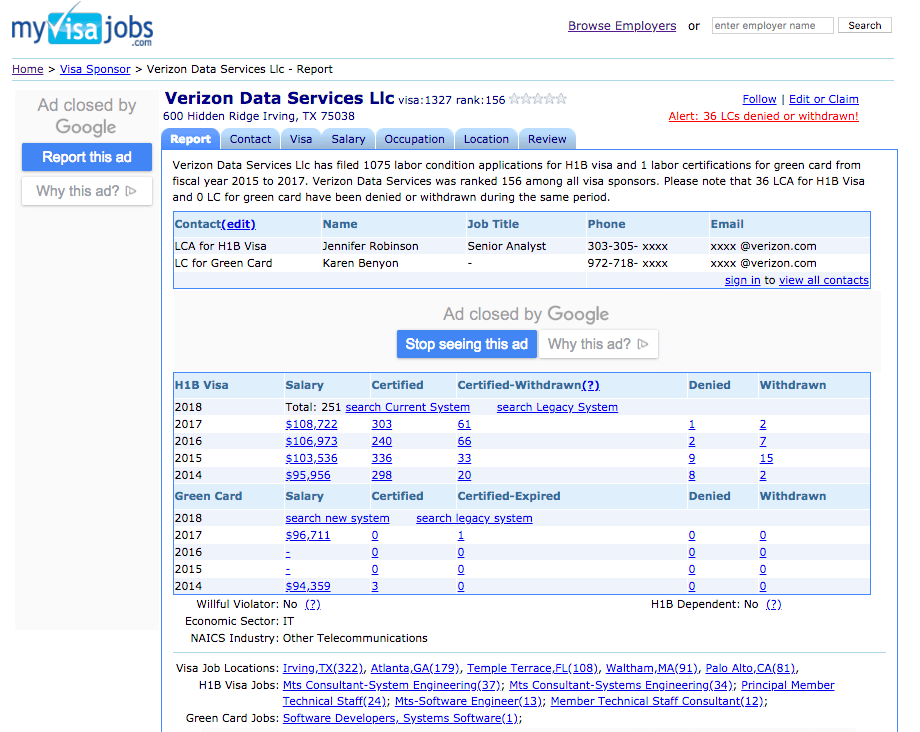 Board member Rodney Slater is a former cabinet secretary in President Bill Clinton's administration. He now is a partner at Squire Patton Boggs LLP, a D.C.-based lobbying firm.
Verizon spokesman Young declined to answer questions from Breitbart News.
Four million young Americans will join the workforce this year, but the federal government will also import 1.1 million legal immigrants, and allow an army of at least 2 million white-collar and blue-collar visa-workers to work U.S. jobs, alongside additional asylum-claiming migrants and at least 8 million illegal migrants.
Overall, the Washington-imposed economic policy of economic growth via immigration shifts wealth from young people towards older people by flooding the market with cheap white-collar and blue-collar foreign labor.
That flood of outside labor spikes profits and Wall Street values by cutting salaries for manual and skilled labor offered by blue-collar and white-collar employees. The policy also drives up real estate prices, widens wealth-gaps, reduces high-tech investment, increases state and local tax burdens, hurts kids' schools and college education, pushes Americans away from high-tech careers, and sidelines at least 5 million marginalized Americans and their families, including many who are now struggling with opioid addictions.
Immigration also pulls investment and wealth away from heartland states because investment flows towards the large immigrant populations living in the coastal states.
http://feedproxy.google.com/~r/breitbart/~3/C9lnyVRdjIQ/