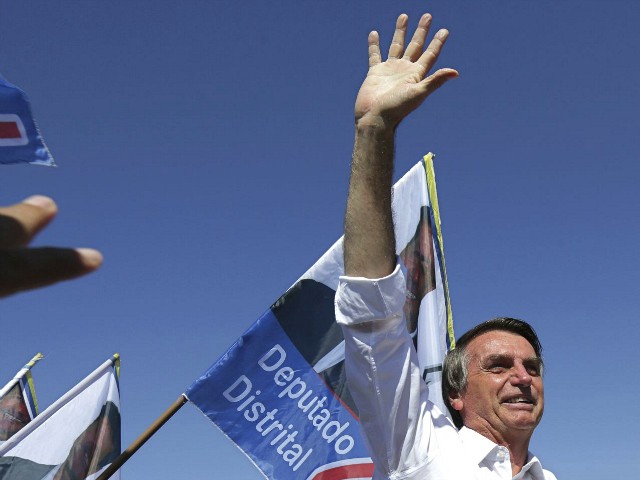 Prominent members of the anti-socialist opposition in Venezuela congratulated Brazilian President-elect Jair Bolsonaro on Monday for his election victory this weekend. Bolsonaro made fighting socialism a pillar of his campaign policy, promising to cut financial ties with the dictatorship in Caracas.
A member of the conservative Social Liberal Party (PSL), Bolsonaro repeatedly condemned the socialist Workers' Party (PT) for using their nearly two decades in power to bring Brazil out of the orbit of the United States and the West and instead strengthen ties to rogue regimes like Cuba and Venezuela.
Several members of Venezuela's opposition congratulated him on his victory, expressing optimism that a right-leaning Brazil would play a major role in containing the regime of dictator Nicolás Maduro.
"From Venezuela, we congratulate the people of Brazil and Jair Bolsonaro, their new president. He takes on a great challenge in a region that demands politics with ethics and freedom," wrote María Corina Machado, the head of the anti-leftist Vente Venezuela party. "Venezuelans know today that, more than ever, we can count on Brazil in our struggle for democracy and Freedom!"
Desde Venezuela,felicitamos al pueblo d Brasil y a @JairBolsonaro, su nuevo Presidente.
Asume el gran desafío en una región q exige política con ética y libertades.

Los venezolanos sabemos q hoy, más q nunca, contamos con Brasil en nuestra lucha por la democracia y la Libertad!

— María Corina Machado (@MariaCorinaYA) October 28, 2018
Machado has long been one of Maduro's, and predecessor Hugo Chávez's, most vocal opponents. A longtime conservative lawmaker, the Maduro regime ejected her from the National Assembly by force in 2014, sending riot police to attack her with tear gas. Last week, a pro-socialist gang beat Machado and her supporters after a peaceful public demonstration, attacking her with sticks and pipes. Machado posted images of herself following the incident with clothes covered in blood.
Another member of the opposition, former head of the National Assembly Julio Borges, expressed similar sentiments to Machado's.
"We congratulate the Brazilian people, its institutions, and its new president, Jair Bolsonaro, who we immediately invite to work for the rescue of democracy in Venezuela," Borges wrote. "Brazil is called to be one of the leaders in the region to liberate our country."
Felicitamos al pueblo brasileño, a sus instituciones y a su nuevo presidente, Jair Bolsonaro, a quien desde ya invitamos a trabajar por el rescate de la democracia en Venezuela. Brasil está llamado a ser uno de los líderes de la región en el proceso de liberar a nuestro país.

— Julio Borges (@JulioBorges) October 28, 2018
Like Machado, Borges has suffered his share of physical violence. Socialists broke Borges' jaw in a 2013 brawl on the National Assembly floor that left Machado with a broken nose. In 2016, a pro-socialist gang assaulted Borges in front of Caracas' National Electoral Commission headquarters, breaking his nose. Unlike Machado, Borges has since left Venezuela for neighboring Colombia, where conservative President Iván Duque has vowed not to extradite him to the dictatorship.
Also sending well wishes to Bolsonaro was Lilian Tintori, wife of longtime activist and political prisoner Leopoldo López.
"Congratulations to the president-elect of Brazil, Jair Bolsonaro. We wish him much success," she wrote. "We hope his government will contribute to promoting peace and liberty in all the countries of the region, and to the rescue of democracy in Venezuela.
Felicitaciones al presidente electo de Brasil @jairbolsonaro. Le deseamos mucho éxito en su gestión. Esperamos que su gobierno contribuya a promover la paz y la libertad en todos los países de la región, y el rescate de la democracia en Venezuela.

— Lilian Tintori (@liliantintori) October 29, 2018
The messages expressing newfound hope for peace in Bolsonaro's election is a notable divergence from the attitude among many leftist elite, including in American entertainment, who accuse Bolsonaro of seeking to establish a military dictatorship due to favorable comments he made in the past about the past military regime. Some on the left suggest that his support for democracy in Venezuela may lead to Bolsonaro agreeing to invade Brazil, as the Russian news outlet TASS claimed on Monday.
In live remarks following his election Sunday, Bolsonaro repeatedly emphasized the importance of individual freedom in his campaign. He called his election a "celebration of freedom in Brazil" and defined the word as "a fundamental principle … freedom to come and go, political and religious freedom, freedom of opinion."
Bolsonaro has repeatedly promised to cut financial ties to Venezuela, accusing the PT of funding the humanitarian crisis in the dictatorship by continuing to work with the Maduro regime.
"Venezuelans are dying of hunger because of the tyranny of a government hand-in-hand with the Cuban dictatorship," Bolsonaro said this month. "Through [the Brazilian Development Bank] and other sources of its money, Brazil is a great patron of the socialism massacring millions around the world. This will change!"
Both Venezuela and Cuba owe Brazil millions in debts taken out through the development bank (BNDES). Experts believe neither country has the capital to currently pay it back. Brazil, meanwhile, is suffering one of the worst economic climates in its history after socialist governments spent billions in public funds on, among other major projects, the 2014 FIFA World Cup and the 2016 Summer Olympics.
Despite his harsh words for Venezuela, Nicolás Maduro also extended congratulations to Bolsonaro, urging him to "retake, as neighboring countries, the path of diplomatic, respectful relations," a stab at interim President Michel Temer's decision to move the country further away from Venezuela.
Bolsonaro will assume the office of the presidency in January.
Follow Frances Martel on Facebook and Twitter.
http://feedproxy.google.com/~r/breitbart/~3/szUlYf_FKt0/