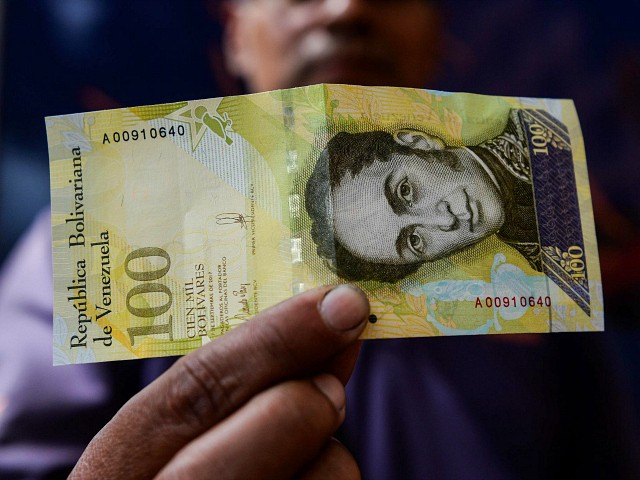 Venezuelan refugees who have fled to Colombia are using their old currency to make and sell art in the street, local outlet La Opinión reported this week.
In the border town of Cúcuta, where thousands of Venezuelans have migrated to escape the economic and humanitarian catastrophe in their homeland, five young entrepreneurs have started selling 16 separate artistic creations using the bolívar currency which, due to the country's hyperinflation, has become effectively worthless.
In Venezuela, the young entrepreneurs learned to create ornaments with recycling material, whether it be magazines or sweets packets. Now they are applying the same technique with bolívar notes, most of which are defunct are effectively worthless.
As well as selling decorative ornaments such as lamps, vases, swans, boats, and musical instruments, some of their designs have a practical use, with items including wallets, purses, and backpacks. According to one of the merchants, who prefers to remain anonymous, the products are more popular with local Colombians than Venezuelans, which he suggests is because of the bad memories evoked by their country's currency crisis.
It is not the first instance of Venezuelans using their currency for creative purposes. Last December, Breitbart reported on the work of 25-year-old tattoo artist and illustrator José León, whose project "Venezuela Unchained" used bolívar notes to create art canvasses of "great characters, scenarios, and psychedelic concepts."
Currency inflation in Venezuela began to soar as early as 2007 under the rule of former leader Hugo Chávez but has now reached levels similar to Germany's Weimar Republic or Zimbabwe, where people loaded up wheelbarrows full of cash to buy products as well as the introduction of a 100-trillion-dollar banknote.
The Venezuelan regime has repeatedly tried to deal with the problem of inflation by increasing the country's minimum wage and releasing higher denomination bank notes. In July, socialist dictator Nicolás Maduro removed five zeroes from the bolívar's value and increased the minimum wage 30-fold, a move he declared would spark "great revolutionary changes in the economy that Venezuela demands."
The measures worsened the problem. The International Monetary Fund predicted this year that inflation will reach one million percent by the end of 2018. Despite the regime's hatred towards the United States, growing numbers of Venezuelan merchants now only accept payments in U.S. dollars, raising speculation that the country will eventually be forced to revert to the dollar in a post-Maduro economy.
Follow Ben Kew on Facebook, Twitter at @ben_kew, or email him at bkew@breitbart.com.
http://feedproxy.google.com/~r/breitbart/~3/apyEFZKpyLM/