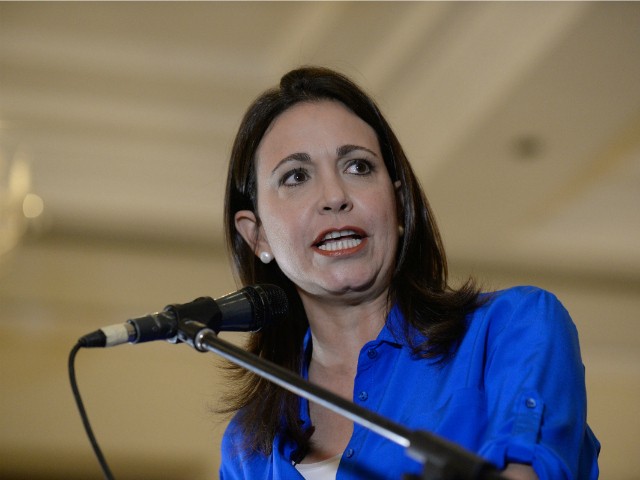 Venezuelan opposition leader María Corina Machado published a letter on Monday directed at Chinese Communist Party chief Xi Jinping and his Russian counterpart, Vladimir Putin, intended to discourage both countries from continuing to do business with Nicolás Maduro's socialist regime.
Machado is the head of Vente Venezuela, the most consistently anti-socialist opposition party in the country. A former lawmaker, Machado has sustained multiple physical assaults, including a police tear gas attack upon being expelled from the National Assembly in 2014 and an attack from a socialist mob a month ago during a political rally in broad daylight.
Russia and China are two of Venezuela's most prominent benefactors. Russian banks were the first in line to deal in the fictitious cryptocurrency, the "petro," following Maduro's debut of it. China recently welcomed Maduro to Beijing and inked a deal trading millions of barrels of oil for billions in financing.
Machado announced a letter-writing campaign on Twitter this week, noting that the socialist regime has banned her from leaving the country and, thus, meeting with any world leaders. She began the campaign with a letter to Xi and Putin, she explains, because their nations have most recently engaged the Maduro regime:
2/3 Mi 1ra carta va dirigida a Pdtes d China,Xi Jinping,y d Rusia,Vladimir Putin; cuyos países son miembros permanentes del Consejo de Seguridad ONU.

Este organismo debe discutir las masivas y sistemáticas violaciones a DDHH y peligro de un Estado criminal en nuestro hemisferio. pic.twitter.com/lsLdROBMAG

— María Corina Machado (@MariaCorinaYA) November 12, 2018
"I want to acknowledge your concern for Venezuela, which was recently expressed through two economic advisory teams which visited our country at the request of your governments," Machado writes. "I am sure that these teams verified the impossibility of advancing in our goal of stability and prosperity in the midst of the chaos resulting from the current regime's mismanagement."
She notes also that both China and Russia are permanent members of the U.N. Security Council, without mentioning they are the most likely on the council to vote against any action to stabilize the Venezuelan government and urges them to use that leverage to galvanize global action to end the violence and starvation pervasive in Maduro's Venezuela.
China and Russia, she writes, "can make an extraordinary contribution to generating the regime change that Venezuela needs, in order to return to the basic principles that foment stability and progress." She warns, "Failure to pursue this would be a mistake, the consequences of which would result in further deaths and global insecurity."
Machado concludes by suggesting that no longer enabling the Maduro regime, which has collapsed the Venezuelan economy and forced thousands to flee the country, "will provide great opportunities for [their] country's cooperation with the People's Republic of China, the Russian Federation, and the rest of the global community."
Machado has been one of the most prominent figures in the anti-socialist movement in Venezuela since long before Maduro took over for late dictator Hugo Chávez in 2013. She has suffered tremendous physical harm as a result. That year, socialist lawmakers attacked Machado on the floor of the National Assembly, leaving purple welts on her face and breaking her nose. In 2014, she suffered a tear gas attack for attempting to enter her office at the legislature after being arbitrarily stripped of her powers. Maduro has since illegally dissolved the National Assembly and replaced it with something called the "national constituents' assembly," made up of prominent socialists, including Maduro's wife and son.
Machado and her allies have long focused on attracting the attention of friendly international governments, such as the United States. Addressing Xi and Putin directly is a shift in strategy, suggesting to those countries that it is no longer financially feasible to do business with Maduro.
After years of slowly withdrawing from Venezuela out of distrust of the Maduro regime, Maduro convinced Xi in a September visit to Beijing to lend Caracas $5 billion, allegedly in exchange for at least one million barrels of crude oil. Venezuela has the world's largest oil reserves but has largely failed to pump and refine that oil after Chávez replaced the heads of the state-run Petróleos de Venezuela (PDVSA) with inexperienced socialist cronies.
Economists argued following Maduro's Beijing trip that a $5 billion injection into the Venezuelan economy was nowhere near enough to offset the calamitous inflation rates and gross socialist mismanagement that had collapsed the economy.
Like China, Russia has also bought into economic deals with Maduro. Following Maduro's announcement that he would launch the fictitious petro, Evrofinance Mosnarbank, a Russian bank, was the first and only international institution expressing interest in backing the currency.
Following his meeting with Chinese officials, Maduro held a meeting in New York with Russian Foreign Secretary Sergei Lavrov and Iranian President Hassan Rouhani during September's United Nations General Assembly open debate. Most recently, Russia sent a financial delegation to Venezuela in October to discuss preventing a full economic collapse in the Latin American nation.
Follow Frances Martel on Facebook and Twitter.
http://feedproxy.google.com/~r/breitbart/~3/7vB7AEnG5-s/