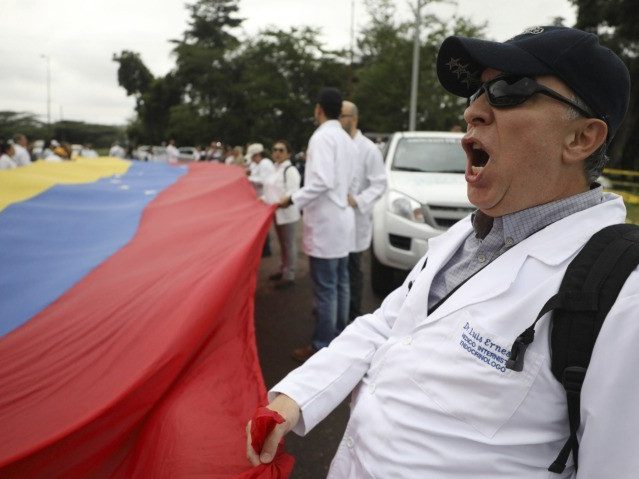 Dozens of doctors flooded Venezuela's border bridge with Colombia on Sunday urging the Maduro regime to stop blocking the entry of humanitarian aid into the crisis-stricken country.
Last week, the United States and other regional contributors sent three humanitarian aid convoys to checkpoints in Colombia and Brazil bordering Venezuelan territory intended for Venezuelans and Venezuelan refugees fleeing the country. Aid workers remain unable to provide healthcare professionals in the country with emergency medical resources because Maduro – who is no longer legally president of the country but still controls the military – ordered soldiers to blockade the bridge that connects Venezuela to Colombia.
"Who are we? Venezuelan doctors! What do we want? Humanitarian aid! Why? Because our patients are dying!" the protesters chanted. They also waved the Venezuelan flag and sang the country's national anthem.
40 médicos venezolanos se concentran en el puente Tienditas para exigir el ingreso de ayuda humanitaria. Muchos cruzaron hoy el puente Simón Bolívar y otros ya residen en Colombia. Aseguran que otros compañeros que emigraron están dispuestos a regresar para dar su aporte #10Feb pic.twitter.com/pD01B1ACcu

— Raylí Luján (@RayliLujan) February 10, 2019
In their attempts to block the entry of aid, Venezuelan soldiers positioned tankers on the Tienditas international bridge connecting Venezuela with Colombia, making it impossible for supplies to reach those within the country:
The Venezuelan people desperately need humanitarian aid. The U.S. & other countries are trying to help, but #Venezuela's military under Maduro's orders is blocking aid with trucks and shipping tankers. The Maduro regime must LET THE AID REACH THE STARVING PEOPLE. #EstamosUnidosVE pic.twitter.com/L4ysYJaM6H

— Secretary Pompeo (@SecPompeo) February 6, 2019
Dr. Jose Luis Mateo, a member of the NGO United Doctors, told Efecto Cocuyo, a local opposition outlet, that the Maduro regime is blocking the entry of aid so they can continue to exercise control over the most vulnerable.
"Those of us who are in hospitals, who see people undernourished and die from lack of medicines, we see how serious the health crisis in the country is," he said. "Undoubtedly, if humanitarian aid arrives, they will lose control of all the people who are suffering from hunger, misery, and need."
#Testimonio Doctor José Luis Mateo de La Riva, de Médicos Unidos: "Nosotros, que estamos en los hospitales, que vemos a la gente desnutrida y morir por falta de medicinas, vemos lo deficiente que está la situación de salud en el país" #10Feb pic.twitter.com/KaNieHjF4W

— Efecto Cocuyo (@EfectoCocuyo) February 10, 2019
Amid the crisis, interim President Juan Guaidó has vowed to help deliver the aid packages by appealing to the military and opening aid routes with the help of volunteers.
"Once again, a direct order to the armed forces at this time: Allow the necessary humanitarian aid to enter to take care of your families, your sister, your mother, your wife, who surely need supplies and some of whom, unfortunately, surely also have certain health conditions," he told reporters on Sunday.
"There are people responsible for this and the regime should know it," he continued. "This a crime against humanity, men of the armed forces."
As well as weaponizing poverty to gain greater control, the regime has long refused aid on the basis that accepting it would be an admission of failure for Hugo Chávez's socialist revolution. Instead, Maduro has repeatedly denied the existence of any crisis, instead referring to occasional "difficulties" and declared at the United Nations last year that his country is "stronger than ever."
"Venezuela will not be made a false promise of humanitarian aid," Maduro said last week. "We are motivated by work, production, and growth of our economy. We are not a country of beggars."
Follow Ben Kew on Facebook, Twitter at @ben_kew, or email him at bkew@breitbart.com.
http://feedproxy.google.com/~r/breitbart/~3/k80zs76fXmI/