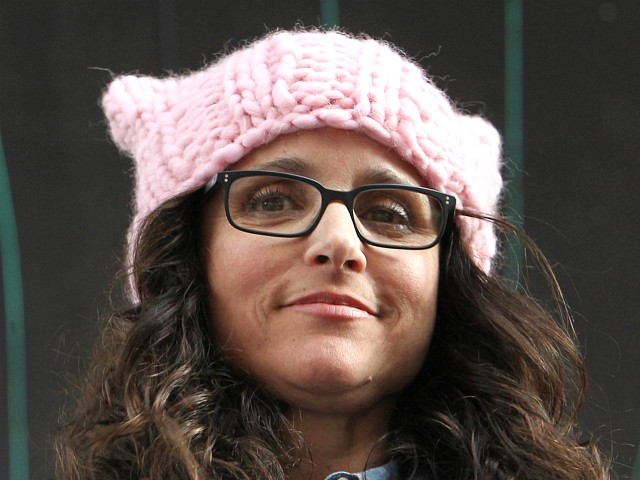 Actress and comedian Julia Louis-Dreyfus signed a letter in support of Dr. Christine Blasey Ford, who claims she was sexually assaulted by President Donald Trump's Supreme Court nominee Judge Brett Kavanaugh's while they were in high school.
"We are alumnae of Holton-Arms School, and we are writing in support of Dr. Christine Blasey Ford, a fellow Holton graduate," reads the draft letter from alumnae of Holton-Arms, a private girls school in Bethesda, Maryland. "We believe Dr. Blasey Ford and are grateful that she came forward to tell her story."
"It demands a thorough and independent investigation before the Senate can reasonably vote on Brett Kavanaugh's nomination to a lifetime seat on the nation's highest court," the letter continues.
Julia Louis-Dreyfus, who left the school in 1979, confirmed that she was one of the signatories. Before Ford's allegations, the actress had tweeted out multiple stories criticizing Kavanaugh's nomination and other left-wing causes including NFL star Colin Kaepernick's recent Nike campaign.
I was class of '79 & signed this letter. https://t.co/5ssttu9uzT

— Julia Louis-Dreyfus (@OfficialJLD) September 17, 2018
The letter comes after psychology professor Dr. Christine Blasey Ford told The Washington Post in an interview on Sunday that Judge Kavanaugh had forced her onto a bed during a party in the 1980's, before "[groping] her over her clothes, grinding his body against hers and clumsily attempting to pull off her one-piece bathing suit and the clothing she wore over it."
Kavanaugh has vehemently denied the allegation, saying he had no idea who was making the claims until Ford revealed her identity. He and his accuser are set to testify in front of a Senate committee on Monday.
"I am willing to talk to the Senate Judiciary Committee in any way the Committee deems appropriate to refute this false allegation, from 36 years ago, and defend my integrity," Kavanaugh said in a statement this week.
Last year, Louis-Dreyfus announced that she had been diagnosed with breast cancer, using the opportunity to push a policy of universal healthcare.
"The good news is that I have the most glorious group of supportive and caring family and friends, and fantastic insurance through my union," she wrote at the time. "The bad news is that not all women are so lucky, so let's fight all cancers and make universal health care a reality."
Follow Ben Kew on Facebook, Twitter at @ben_kew, or email him at bkew@breitbart.com.
http://feedproxy.google.com/~r/breitbart/~3/ecdu3uHSzGc/