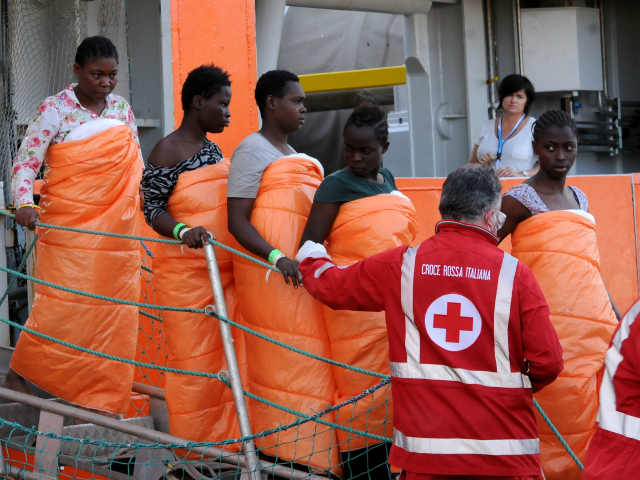 Migrant mothers can teach Western women "to be both a feminine woman and to be mothers," because of their unique experience of motherhood, a Vatican official said this weekend.
Gabriella Gambino, one of the highest-ranking women in the Vatican Curia, said that mothers in Western countries often have difficulty being both "woman and mother," while migrant mothers more easily integrate these different dimensions.
Migrant women "are a bit of a prototype of a motherhood completely different, a motherhood lived in its essence, in the feminine dimension," Gambino said at a November 9 book presentation in Rome.
The book, titled Antikka: Stories of arrival and departure, motherhood wanted or unaware, of violence suffered, chronicles true stories of African women who migrated to Europe, often suffering rape, forced prostitution, violence, war and poverty.
Ms. Gambino, who is a mother of five and undersecretary for the "life" section of the Vatican department for Laity, Family, and Life, said that that women migrants "are those who, especially from African countries, live with violence but who can offer the world their motherhood, they are women who truly know how to live motherhood as having, not doing."
This essential grasp of motherhood is more difficult in the West, Gambino said, because of a post-modern feminist emphasis on independence and productivity.
The stories of African women migrants, many of whom became pregnant as a result of rape, allow us to "enter into a world we don't know in our Western countries," Gambino said.
These are women "who come from unheard-of sufferings, whose motherhood is the result of violence, drama, suffering," she said, and nonetheless they are able to "rework this suffering, making themselves mothers in the most authentic sense of the word."
Their experience of suffering and sacrifice enables these women to embrace motherhood in a unique way, Gambino said, which has a deep spiritual and moral dimension.
These women "are able to recognize in their children the presence of God," she added, which makes the idea of abortion inconceivable for them, while in the West, women often "live maternity in the inverse way: motherhood as a fatigue, motherhood as a choice, as a productive decision."
In the West women often "work around motherhood" because they have so many other things to do, whereas migrant women are deeply aware of "the reality they carry in their womb."
They "welcome life, care for it and bring it to the world, offer it to the world," she said.
Antonella Ferraiolo, a gynecologist in Genoa, compiled the migrants' testimonies that made up the book, hoping they would inspire others as they had inspired her.
Speaking with Crux, an online Catholic news agency, Ms. Ferraiolo said that despite the Italian government's tougher stance on illegal immigration, especially with Matteo Salvini as Interior Minister, she does not consider them anti-migrant.
While Salvini has attempted to curb Italy's rampant immigration problem, he has a softer approach toward women and children, Ferraiolo said.
"He has always spoken in their defense, so this is something we have to try," she said.
Follow Thomas D. Williams on Twitter Follow @tdwilliamsrome
http://feedproxy.google.com/~r/breitbart/~3/fS99-A46cW0/